Sadistic Sherlock
(Ward Security #4)
by Jocelynn Drake and Rinda Elliott
Release Date:
September 28, 2018
Genre:
M/M Romantic Suspense
Goodreads
4.45 · Rating details · 111 Ratings · 31 Reviews
Ten years ago, Dominic Walsh faked his own death. With no true identity, it wasn't hard. But if he'd stayed, he would have been drawn further into a life he'd never chosen. He has friends and family at Ward Security now and has managed to escape his dark past. There is only one thing he truly wants.
Abraham Stephens.
When Dom was first tasked with watching over his friend's father, he didn't expect to fall so hard for the gorgeous silver fox. But Abe is interested in friendship only. He's at a point in his life where he wants something permanent, not a romp with the sexy redhead who happens to be the same age as his son.
But Abe finds himself drawn deeper into Dom's life when cryptic messages start appearing—ones that frighten the skilled security specialist. The more Dom tries to hide what's happening, the more Abe wants to help him.
And maybe, just maybe, he'll find a way to trust the strength of the bond Dom understood from the start.
Sadistic Sherlock is another great addition to the series that I love. We have an age gap romance between Dominic and Shane's dad Abe and some added suspense with Dom's past coming back to haunt him. I was a bit disappointed that we skip the whole Dom meeting Abe for the first time thing and how they developed their friendship over the months. We are smack right in the middle of their budding friendship with Dom persistently trying to seduce Abe to start something with him. For those new readers who jumped into this without reading the previous book, they might feel disconnected with the characters.
Abe is nearing his big five-o and had some reservation about acting on his attraction towards a man, which is understandable. Dom is almost at the same age as his son, Shane. However, Dom is such a charming, little cheeky brat that he finally wear Abe down with his power of persuasion. I find their relationship real solid from the get go probably due them holding out for so long. Abe is such a sexy silver fox and I can definitely imagine his appeal.
Reading this book is effortless, as I manage to finish it in one day despite not having much time. The plot move seamlessly and engaged me at every page, both the romance and the suspense. The suspense part was intriguing with the appearance of Dom's family member that want to wreck havoc to his peaceful life. The villain was kinda scary and I'm nervous for Dom. Abe is not a fighter, unlike the member of Ward Security, but I'm glad to see him played an important role in the grand scheme of thing.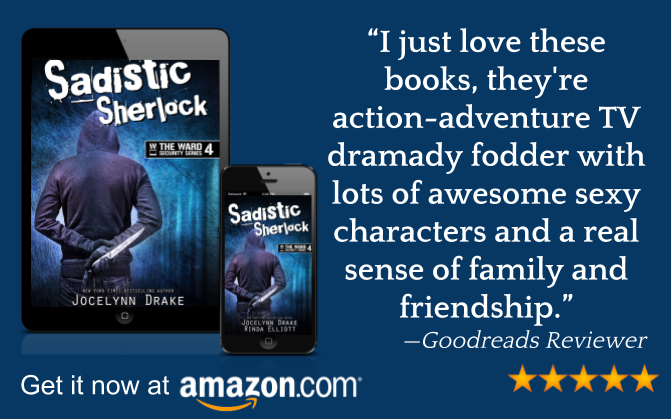 Dom insisted on helping him clean the kitchen, and it took all Abe's concentration to not attack the guy. He wanted to lift him up on the counter and—
"That's it," Dom announced. "I can't handle the way you keep looking at me." He threw the dishtowel he'd been using and backed Abe into a wall this time. He braced both hands on either side of shoulders and stared hard at him. "We're doing this at a slow pace. I mean it."
"Stop being so fucking bossy and come here." Abe grabbed him and yanked him in for another kiss that rocked his world. The man kissed like he wanted to devour Abe, like he could pull air from Abe's lungs to survive on that alone. He had a naughty tongue normally—Abe never knew what was going to come out of his mouth—but it was also playful and so damn sensual when he slid it into Abe's mouth. He wanted that tongue all over his body.
They kissed until his lips became sensitive, to where every rasp of Dom's lips sent nerves tingling like he was being zapped with tiny bursts of electricity.
Dom pulled back and he kept going until his back hit the island. "Take off your shirt."
Abe didn't even hesitate. He was too far gone to worry about his forty-nine-year-old body at this point. If Dom didn't like him as he was, if he didn't want to do this again, then Abe would take this one shot to see him, to touch him, and he'd love it. He stepped back and pulled off his Henley and stood there, letting Dom look. "Yours too."
"In a minute," Dom breathed as he leaned back against the island and leisurely ran that hot gaze over Abe.
It took all his control to stand still, because he wanted to maul Dom. There wasn't another word to describe what he wanted to do. Grab him, throw him against the wall or on the couch and just…take him apart. Feel all that searing skin against his. Rub his cock against that taut body…
Dom grinned in that oh-so-wicked fashion of his and crooked a finger. "Come here."
But Abe had a better idea. He grabbed him and pressed him back into the wall. Dom didn't wait for him to take the final step close before his hands were on Abe's chest and his fingers were combing through his chest hair. He ran one palm down Abe's belly, which didn't have the bumps and ridges of muscle that Dom's had. But he couldn't discount the complete desire he saw in those green eyes and the very hard dick showing in his jeans.
Abe slowly reached out and ran one finger down that hard ridge, and the back of Dom's head thunked on the wall. "If I come in my pants, no comments about the age thing. I'm thirty-two damn years old and you have me so hot, I'm about to be humiliated for life."
"Oh yeah?" He popped the top button and unzipped Dom's jeans. He didn't push them down—just left them open. "Spiderman? Really?"
"I didn't think you'd be seeing my boxers tonight, or I would have worn the Batman ones. They're way hotter." Dom smirked.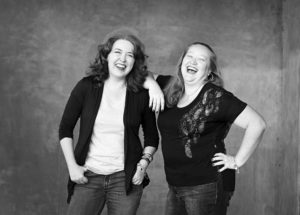 Who are Drake & Elliott?
Jocelynn Drake and Rinda Elliott have teamed up to combine their evil genius to create intense gay romantic suspense stories that have car chases, shoot outs, explosions, scorching hot love scenes, and tender, tear-jerking moments. Their first joint books are in the Unbreakable Bonds series.
a Rafflecopter giveaway