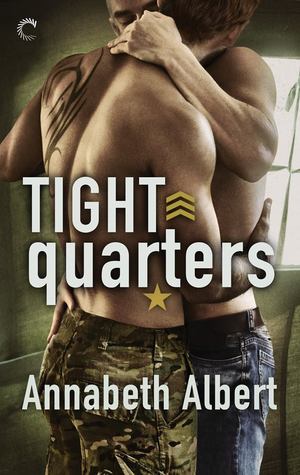 Tight Quarters
(Out of Uniform #6)
by Annabeth Albert
Genre:
M/M Romance
Release Date:
July 9, 2018
Goodreads
Petty Officer Bacon, a navy SEAL and ace sharpshooter, has been on the front lines of more than his fair share of dangerous ops. Yet when a minor injury relegates him to the beta team, he's tasked with what may be his riskiest assignment yet: the silver fox journalist he's babysitting is the hottest, most charismatic man he's ever encountered.
Award-winning journalist Spencer Bryant may have been named one of Pride magazine's most eligible bachelors of the year, but he's not looking to change his relationship status. He's a consummate professional who won't risk his ethics or impeccable reputation by getting involved with a source. Even a sexy-as-hell military man. But while Spencer can resist his physical attraction to Bacon, he has less control over his emotions—especially when the mission goes sideways and the two men are trapped alone.
Getting out of the jungle alive turns out to be easy compared to facing the truth about their feelings for one another back in the real world. And whether or not they can build a future is a different story altogether.
I'm in love with Tight Quarters. We have Petty Officer Bacon who was tasked to babysit journalist Spencer Bryant, a task Bacon was not fond of, but he is too professional to fuck it up. Spencer is a silver fox gay man who is confident about himself and his assignment to embed with the Navy SEAL didn't much faze him at all. I admire the way Spencer is so sure of himself and walk with an air of confidence. Bacon and Spencer relationship started from a professional one with mutual admiration to friends who confide in each other and subsequently as lovers. The pacing was just smooth sailing and the transition from one relationship to another seems effortless. Of course, most of their intimate relationship develop after Spencer is back to the civilian world. They are both too professional to be fraternizing in the middle of work. Got to admire the kind of work ethics. However, Spencer then received a new assignment which might put their relationship in jeopardy. I love how the drama play out with both of them being so passionate about their work, but in the end willing to make some compromise. Tight Quarters really showcase how a healthy and mature relationship works.
Bacon was hanging on to life by one index finger. Literally. One sore, overused finger was all that separated him and a plunge down the sheer cliff face. The desert sun had sweat rolling down his face, stinging his eyes.
"Come on, Bake. You've got this!" Curly called at him. He was already safely on the ridge, along with several other SEAL team members. This was the last step in a grueling training mission that had tried their stamina with a HALO jump followed by a long run over rough terrain and this final climb.
Annabeth Albert grew up sneaking romance novels under the bed covers. Now, she devours all subgenres of romance out in the open—no flashlights required! When she's not adding to her keeper shelf, she's a multi-published Pacific Northwest romance writer. The #OutOfUniform series joins her critically acclaimed and fan-favorite LGBTQ romance #Gaymers, #PortlandHeat and #PerfectHarmony series.
To find out what she's working on next and other fun extras, check out her website:
www.annabethalbert.com
or connect with Annabeth on Twitter, Facebook, Instagram, and Spotify! Also, be sure to sign up for her newsletter for free ficlets, bonus reads, and contests. The fan group, Annabeth's Angels, on Facebook is also a great place for bonus content and exclusive contests.
Emotionally complex, sexy, and funny stories are her favorites both to read and to write. Annabeth loves finding happy endings for a variety of pairings and is a passionate gay rights supporter. In between searching out dark heroes to redeem, she works a rewarding day job and wrangles two active children.
a Rafflecopter giveaway