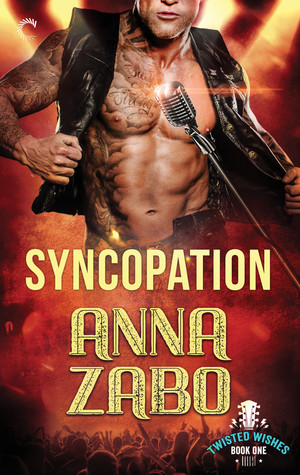 Syncopation
(Twisted Wishes #1)
by Anna Zabo
Genre:
M/M Romance
Release Date:
April 9, 2018
Goodreads
There's no resisting the thrum of temptation in this male/male rock-star romance from genre-favorite author Anna Zabo!
Twisted Wishes front man Ray Van Zeller is in one hell of a tight spot. After a heated confrontation with his bandmate goes viral, Ray is hit with a PR nightmare the fledgling band so doesn't need. But his problems only multiply when they snag a talented new drummer—insufferably sexy Zavier Demos, the high school crush Ray barely survived.
Zavier's kept a casual eye on Twisted Wishes for years, and lately, he likes what he sees. What he doesn't like is how out of control Ray seems—something Zavier's aching to correct after their first pulse-pounding encounter. If Ray's up for the challenge.
Despite the prospect of a glorious sexual encore, Ray is reluctant to trust Zavier with his band—or his heart. And Zavier has always had big dreams; this gig was supposed to be temporary. But touring together has opened their eyes to new passions and new possibilities, making them rethink their commitments, both to the band and to each other.
This is my first read of Anna Zabo and is a rockstar romance. Twisted Wishes is an up and coming band that is taking over music industry by storm. We have the lead singer-songwriter, Ray who is a total mess. Actually he is a very nice guy, responsible, hardworking and he is very passionate about his music. All his problem stem from their asshole manager, Carl. All the drama in the book basically caused by one person - Carl. I feel that the author gave too much credit to this villain. I don't understand why is it so hard for Ray to stand up for himself and ask Carl to fuck off. Ray seems a bit naive and vulnerable despite the rockstar status, which bring us to the BDSM theme.
BDSM is not for everyone and I feel that this should be highlighted. Lucky for me, I'm a big fan, thus the D/s relationship between Ray and his new drummer/old high school crush - Zavier, works out for me. Their sexual relationship didn't start until the middle of the book, which actually gives time for Ray and Zavier to build their friendship. I really like Zavier, he is a rock, so dependable and level headed and whenever he is around, I know Ray is going to be okay. The BDSM element is not too over the top, just bondage, spanking and whipping.
There is a mentioned of Zavier being aromantic. Honestly, I don't know much about this label, but from what Zavier insinuate, it doesn't sound all that dramatic. He don't fall in love (he can be denial, right?) and he don't like the flower and roses (I thought those are just waste of money anyway) and he don't like big confession (I prefer action than words). If this is what aro means, I guess I'm an aro too. Overall, the whole aromantic angle doesn't really make this any different from any other m/m romance I've read. I thought Zavier is a very lovable character, he cares very much for Ray (although he don't call it love) and there is definitely a HEA. I'm was a little disappointed that the epilogue didn't really update me on the status of their band. I guess I will have to wait for Book 2 to know about it.
"Who the hell is auditioning?"
"Me."
Smooth voice, like those images of melted chocolate in commercials. Vaguely familiar, too. Tingles ran down both of Ray's legs, and he rotated toward the door.
There, leaning against the frame, was Zavier Demos. Older, improbably hotter, and still as perfect as ever.
"No."
Fucker flashed a gorgeous smile. "Nice to see you, too, Ray."
No wonder Dom hadn't put him on the list. Ray would have crossed his name right back off due the lingering anger from high school. Zavier had been everything he'd wanted to be. Born with rock-star looks and a rock-star name, and a musical prodigy to boot. Fucking asshole had laughed all those years ago when Ray had asked him to join his first band.
Anna Zabo writes contemporary and paranormal romance for all colors of the rainbow. They live and work in Pittsburgh, Pennsylvania, which isn't nearly as boring as most people think.
Anna grew up in the wilds of suburban Philadelphia before returning to their ancestral homelands in Western Pennsylvania. As a child they were heartily disappointed to discover that they couldn't grow up to be what they wanted (a boy, a cat, a dragon), so they settled on being themself whenever possible, which may be a combination of a boy, a cat, and a dragon. Or perhaps a girl, a knight, and a writer. Depends on whom you ask. They do have a penchant for colorful ties and may be hording a small collection of cufflinks.They can be easily plied with coffee.
Anna has an MFA in Writing Popular Fiction from Seton Hill University, where they fell in with a roving band of romance writers and never looked back. They also have a BA in Creative Writing from Carnegie Mellon University.
a Rafflecopter giveaway