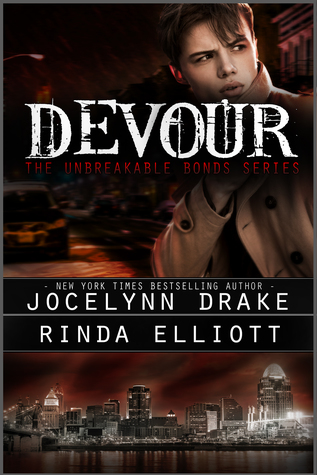 Devour
(Unbreakable Bonds #4)
by Jocelynn Drake, Rinda Elliott
Release Date:
April 28, 2017
Genre:
M/M Suspense
Goodreads
Ian Pierce is the chef and part owner of the hottest restaurant in Cincinnati, his chosen family is full of happy relationships, and the scruffy, snarky cop who has been haunting his dreams is one step closer to being in his bed. But everything comes crashing down when the past he narrowly escaped nine years ago comes to a deadly head.
Hollis Banner was enamored of Ian at first sight. He's kept his distance, knowing the gorgeous, self-confident man is out of his league. Yet there's no standing aside when Boris Jagger escapes a raid. Jagger's world has been nearly destroyed and this time, the crime boss is coming after Ian and his friends personally.
Hollis will do whatever it takes to keep Ian safe as they escape to a safe house with a couple of Ian's overprotective friends. And Ian finds himself in a race to unlock painful memories—memories containing information that could take down the very last of Jagger's illegal operations forever.
Trigger warning: Flashbacks to abuse could be possible triggers for some.
Devour is the most anticipated book of this series for me. We have been introduced to Ian Pierce and Hollis Banner since the first book and the authors have tease us enough. I can't wait to get my hand on these two men and their previous interaction especially in Torch was seriously hot! Thus, I believe due to my high expectation for this final book, I ended up not being able to rate this 5 stars.
I love Ian and Hollis with all my heart and they are still one of my favorite couples in this series. Ian is the most sympathetic character of all due to his past as one of Jagger's boy. Hollis is a your rough-around-the-edges cop. He is a good guy, but after meeting Lucas and the gang, he seems to be on the gray zone. Let's be honest here, they didn't get enough page time and privacy in Devour. I know this is the last book and everyone is running on adrenaline trying to capture the villain aka Jagger.
During first half, Ian and Hollis have to hide in a safe house together with Rowe and Noah. We get a little bit of sexy time but not enough. Then as usual, Rowe had some shenanigans going on and they all went for a stake out.
During second half, Ian and Hollis have to head back to Cincinnati to be with the family aka holding up at Lucas's penthouse. Considering that everyone is all paired up, the authors also have to dedicate some page time to update on how everyone is doing with their respective partners.
Overall, the final book is pack with suspense and everyone carried their own weight in the final showdown with Jagger. Ian and Hollis seems like getting the short end of the stick and their romance was distracted by everything that is happening.