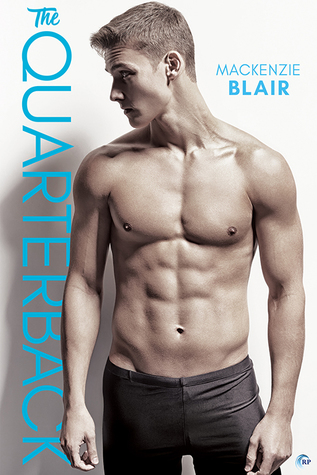 The Quarterback
by Mackenzie Blair
Genre
: M/M Romance, Sport
Release Date:
September 11, 2017
Goodreads
Matt Lancaster is the star quarterback at Bodine College, a small Southern Division II school with an ultra-conservative Dean of Athletics. Matt is also very much in the closet, and he thinks he's kept his secret well hidden. Until his best friends take him to a happy endings massage parlor and request a male masseuse for him.
In walks Trevor Kim, a gorgeous, pierced, tattooed fellow Bodine student who does massages—without happy endings—to pay for school after his family kicked him out for being gay. Trevor takes one look at Matt and breaks all his own rules about mixing business with pleasure.
Matt needs to keep his scholarship, win the National Championship, and survive his asshole father. Instead, he falls in love. Trevor needs to accept that the football god is meant to end up with him rather than a perky cheerleader. It's time for a happy ever after for both of them.
This is MacKenzie Blair's first M/M romance and I can see that the characterization and plot are pretty reserve. She went for the safest route and for seasoned M/M readers, I felt that I'm not being challenge. But on the other hand, I find it refreshing, not everything needs to be difficult. The part that I enjoy most are probably due to Matt and Trevor was pretty honest to each other right from the beginning. They didn't pour their heart out, but was pretty upfront about everything else.
Matt is the quarterback, the golden boy of the college. He is so deep in the closet that he is still a virgin. Well, at least we knew he isn't a manwhore who sleep with women to keep up appearance. The whole massage parlor incident happened because his best friends knew about his predicament and decided to help him out.
I watched plenty of gay massage porn before, but reading it is a whole different experience. There are a few session of erotic massage going on between Matt and Trevor, which is seriously hot. I thought it was kinky and fun and so illicit because those were Matt's secret outing. Anyway, the whole kinky massage did not took up the whole plot.
Trevor is a Korean American, but his race isn't really the focus of the story. Most of the time, I even forgot he is Asian because he got such an American name. Trevor is out and proud despite being in a conservative college. Trevor is the poor college kid juggling multiple jobs because his family is awful. He is more than happy to land the hottest guy in campus and love to teach Matt a thing or two about gay sex, but Trevor had no patience for Matt's bullshit. Trevor refuse to be a total doormat and his impatience shows.
Despite Matt being in the closet, he still wanted to pursue something with Trevor in campus. Most of the time, I don't like reading closeted case, they are either asshole or seriously depressing. But Matt seems like a very decent guy and he dare to admit he want Trevor although the journey to coming out is hard. The blow back that I anticipated isn't that bad, it seems convincing enough without going OTT. There are some moderate level of angst present whenever Matt and Trevor got into argument, mostly over 'coming out' of course. It did make me feel a tad emotional over it, but it doesn't make me want to throw anything. Far from it, I actually feel all these fight make their relationship seems more real and believable and it shows that not everything is hunky dory.
Overall, a solid NA, M/M, sport romance with lovable characters, hot erotic scenes, some family drama and college drama. All drama in moderation without going OTT. I agree the supporting cast left a lot to be desire. They seems to say those inappropriate stuff although they are suppose to be supportive. But I don't think this inappropriate moments ruin Matt and Trevor's story for me.