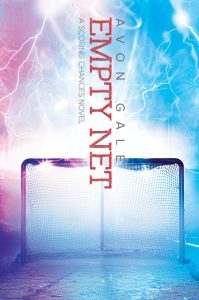 Empty Net
(Scoring Chances #4)
by Avon Gale
Genre:
M/M Romance, Sport
Release Date:
September 2, 2016
Goodreads
Spartanburg Spitfires' goalie and captain Isaac Drake ended last season with an unexpected trip to the playoffs. He's found a home and family with his coach and mentor, Misha Samarin, and he's looking forward to making a serious run for the Kelly Cup. But things take an interesting turn when Isaac's archnemesis, Laurent St. Savoy, is traded to the Spitfires. After Laurent's despicable behavior in the playoffs last year, Isaac wants nothing to do with him – no matter how gorgeous he is. But that changes when Isaac discovers the reason for Laurent's attitude.
Laurent St. Savoy grew up the only son of a legendary NHL goalie in a household rife with abuse, constantly treated like a disappointment on and off the ice. When a desperate attempt to escape his father's tyranny sends him to the Spitfires, the last thing Laurent wants is to make friends. But there's something about Isaac Drake that he can't resist, and Laurent has an opportunity to explore his sexuality for the first time, but he's cracking under end-of-the season pressures. When facing the playoffs and a rivalry turned personal vendetta, Isaac's not sure he's enough to hold Laurent—or their relationship—together.
Please be advised: This book does contain some non-graphic references to past childhood physical/emotional abuse as well as issues relating to ED (bulimia and restricted eating, disordered thoughts about eating).
I can't decide I like Book 3 Power Play more or Empty Net more, both centered on the Spitfire team. Although each book in the series feature a different couple, in order to enjoy Empty Net, you might want to consider to at least read Power Play. It was equally good anyway.
Before starting on this, I thought Isaac Drake, the Spitfire goalie with some serious anger management issue and coupled with his troubled past, he would be the character that cause most of the drama in the story. So I'm surprised to find out that his love interest is Laurent St. Savoy, the goalie from their rival team who used to spit on him and call him a fag. Woah! Bring on the hate, please. I love a good enemies to lovers story as long as the bad guy is redeemable.
Compare to Laurent, Isaac seems like a more well adjusted young man. I can't believe I would describe Isaac as the more mature, understanding and forgiving character. Living under Misha's roof might just do him some good. I really like his close relationship with Misha and that is one of the main reason, you must read Power Play to understand what bonded them together. However, despite his character growth, there are still time for some mischief to keep things entertaining.
Laurent is a big ball of woolly mess. Previously, we might thought he is just an asshole hockey player, but now that we get to know in depth into his character, he is such a tortured soul. He got the worst father ever and that's a lot of reason behind why he acted like a jackass most of the time. I like the way Isaac manage to handle Laurent's prickly attitude. Isaac never coddled him, but instead know how to set boundaries and try to make him come out of his shell.
Isaac and Laurent relationship started off with friendship, which make their foundation solid. Isaac always emphasize that they are friends no matter what happened even if Laurent isn't gay. Their sexual relationship does feel awkward and unconventional in the beginning. Laurent is just not a sexual creature due to his inexperience with people in general. But Isaac is always patience and being there for him to navigate these uncharted territory.
Overall, this series just keep getting better and better. The turning point was at Book 3 whereby we got some seriously engaging plot with strong characters with well developed personal growth. Seeing how Laurent grow from a wild dog that seems to snap at anyone who dare approach him into a person who know how to love and accept love in return in simply amazing.