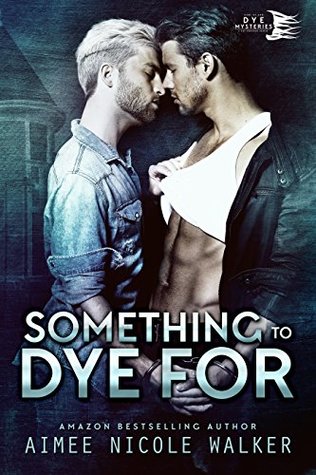 Something to Dye For
(Curl Up and Dye Mysteries #2)
by Aimee Nicole Walker
Genre:
M/M Romance
Release Date:
January 3, 2017
Goodreads
A phone call in the middle of the night forces Detective Gabriel Wyatt out of his warm bed and into the frigid night to identify the body of a murdered man whose wallet contains Gabe's business card instead of an ID. That night sets off a chain of events that chills Gabe to his bones when it appears that the killer has set his eyes on a new target – Josh Roman.
Josh comes face-to-face with a painful reminder of his past just when he's ready to acknowledge that his feelings for Gabe go way beyond liking the man. How can he trust that his feelings for Gabe are right when before he'd always been so wrong?
Will Josh and Gabe finally acknowledge that what they have is something to live for or will they allow danger and doubts to destroy their chance at something amazing?
Something to Dye For is book 2 in the Curl Up and Dye Mysteries series. These books are written to be read in order. They contain sexually explicit material and are intended for adults 18 and older.
This is so much better than Book 1 simply because Josh and Gabe are finally settling into their new relationship. Josh was so frustrating with his hot and cold attitude previously, but here we have none of that. Josh seems to be growing as a person who is ready to throw caution to the wind and embrace a new man in his life. Sometimes he still have worries and doubts, but his action shows that he was pretty much in love with Gabe.
Gabe is as awesome as he was previously. He seems to be the most solid and dependable boyfriend that everyone could only wish for. When Josh starts to receive threats on his well being, we get to see Gabe getting all protective on his man. One thing I do wonder though, why didn't Josh warrant some kind of protection from the police?
One thing I really enjoy this time is meeting both their parents. They both seems to hit the jackpot in the parent department. I'm only slightly disappointed that their interaction with the parents was in such limited page. I crave to read more of them. Chaz and Meredith, both Josh's bff also appeared, but seems to take a back seat. I realize the author seems to focus more on Josh and Gabe's romance development and I'm definitely not complaining for all the swoon I'm getting, but let's not neglect the supporting character, kay?