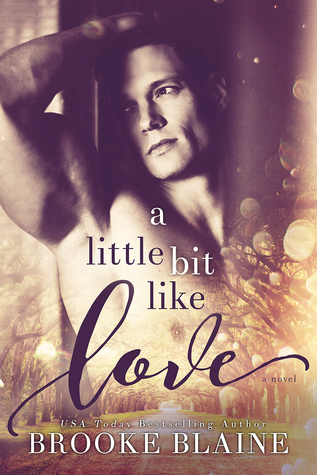 A Little Bit Like Love
South Haven #1
by Brooke Blaine
Publication Date:
July 27th, 2017
Genre
: Contemporary Romance/MM Romance
Goodreads
What if you had everything in the world you wanted…except the man you'd left behind?
Jackson Davenport, the charismatic, strait-laced heir to the Davenport fortune, has a secret. One he's been hiding since he graduated from South Haven all-boys academy—and that secret's name is Lucas.
When a work trip takes Jackson back to his old stomping grounds, memories of the year he shared with Lucas come crashing to the surface. With growing pressure from his father to settle down and take over the family business, Jackson knows he's on borrowed time, and sets out to find the free-spirited daredevil he once knew.
But Lucas isn't the same man he was eight years ago.
One night. A shattered heart. And an endless parade of nameless faces. Lucas Sullivan is South Haven's ultimate playboy, a reputation he's honed since the only boy he ever loved left without a trace. To the world, he's brash and confident, an in-demand artist who spends his days designing one-of-a-kind pieces and his nights as king of the downtown scene.
Many have tried and failed to get past the barrier he's carefully constructed, but it's the shy, studious boy he once coaxed out of his shell who still haunts him.
Maybe it was a mistake. Maybe it was lust. Or maybe…it was a little bit like love.
This book should name 'A Lot Like Love' because there is nothing 'little' about the intensity and the deep level of emotional connection between Jackson and Lucas. This second chance romance nearly slayed me, there is just too much adversity that the guys had face to finally achieve their well deserved HEA.
If I were to exclude the prologue and the epilogue, this entire story only took less than a week. But what a week it was. As with any second romance, there are much heartache past and present, but I believe the future that brings is well worth it. The way Jackson and Lucas ended their relationship eight years ago, is heartbreaking. But the more we learn about the truth behind it, the more I want to weep for them.
During Jackson's limited time in South Haven, they manage to reconnect again after clearing the air. There is never a lull moment during their tentative steps towards learning about each other again. Lucas seems a bit more reserve about accepting Jackson back into his life again, but that's understandable especially knowing Jackson will be leaving soon. There is just so much love between these two soulmates, even when they can't see it for themselves.
There are some dramatic scene towards the end, which I find highly entertaining and absolutely well done. Jackson's life was upheaval when he found out the truth about his family and he had some strings back in Connecticut that he had to handle. I daresay everything was handle really well and even with Lucas rash behavior at the end. I definitely get more than I bargained for when I expect this read to be lighthearted.
You could say Brooke Blaine was a book-a-holic from the time she knew how to read; she used to tell her mother that curling up with one at 4 a.m. before elementary school was her 'quiet time.' Not much has changed except for the espresso I.V. pump she now carries around and the size of her onesie pajamas.
She is the author of Flash Point, a romantic suspense standalone, as well as the co-author of the erotic series, A Desperate Man, with Ella Frank. The latter has scarred her conservative southern family for life, bless their hearts. Licked, a romantic comedy, will be released November 11th, 2015 and is the first in the L.A. Liaisons series.
If you'd like to get in touch with her, she's easy to find - just keep an ear out for the Rick Astley ringtone that's dominated her cell phone for ten years.