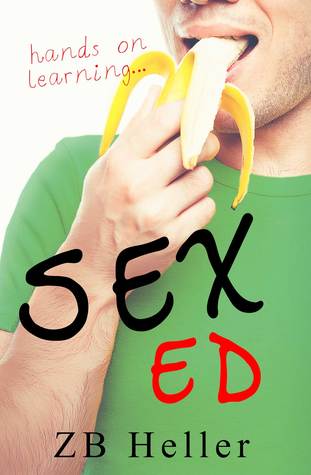 Sex Ed, an all-new HOT and hilarious M/M comedy from Z.B. Heller is LIVE!!!
Sex Ed
by Z.B. Heller
Publication Date
: May 31st, 2017
Genre
: Contemporary MM Romance
Goodreads
Jaxson Dane is harboring a secret.
Not the fact that he's a geeky comic book lover, or that he secretly draws his own comic, Bunny Fu Ninja Warrior. It's not even classified information that he's out and proud!
His secret is the shame that he's a twenty-three-year-old virgin.
Jaxson isn't waiting for marriage or even afraid of taking that step, he just hasn't found the one guy who will accept all of his adorkable qualities. Due to an unfortunate mishap with a self-pleasuring apparatus and his favorite appendage, Jaxson meets Tyler Mason. The emerald-green-eyed nurse is a witness to the mortifying incident, leaving Jaxon both grateful and disappointed in their one-time meeting.
And then Tyler somehow shows up at Jaxon's family dinner.
The very dinner at which Jaxson's hidden virginity is revealed to everyone, including the captivating nurse.
Even though he secretly found the ER situation hilarious, Tyler is also able to look past it to see Jaxson's genuine nature and is drawn to the charming and hapless comic book artist. He's tempted to pursue the inexperienced Jaxson, but a recent and life-altering decision puts a damper on his wants and desires. However, the more time they spent together, the more willing he is to take the risk of juggling his new commitments and winning Jaxon's affections.
A large, insane, and meddlesome family, two prying co-workers, and a sexy nurse are all trying to give Jaxson a crash course in Sex Ed. Will he pass?
This book is laugh out loud funny if you are into crude, sexual joke at the expense of a comic geek virgin. We have the characters from previous series, The Chronicle of Moxie and Tied Together. I never read Moxie, but in Tied Together I don't recall the characters being as crazy as here.
Jaxson the nerdy comic geek of a hero who I actually love. I find his POV's interesting and funny and he is so hopeless in the romance department that he virtually never date before, as oppose to his twin sister, Sophie who seems like super loose.
Tyler is the nurse who witnessed Jaxson's embarrassing moment in ER by trapping his dick in a sex toy. When Tyler turned out to be Uncle Brandon's colleague, they got the chance to interact again under the roof of the boisterous and overzealous Dane family.
We have Jaxson, the blushing virgin who is socially awkward and then we have solid, dependable Tyler who is turned on by his innocence. If this book is entirely about them both, I'm sold. I enjoy every of their little interaction, especially with Tyler being so patience and supportive of him. But I feel cheated when some of their important moments are gloss over. Seeing as Jaxson is a virgin, which is a big part of the story, I didn't even get to read about him receiving blowjob and rimming for the first time. I didn't even get to read about their first sleep over. Seriously, this is a big injustice. I'm in rage.
Instead of getting all the sweet bits between Jaxson and Tyler, we get plenty of Sophie and Ethan and Jaxson's coworker at the comic shop. Sophie and Ethan the enemies that bicker non stop, I mean every single words out of their mouth is to provoke each other. In the beginning I find it funny, but after awhile is getting old and I wish they just proceed to hate fucking each other already. I want to read more about Jaxson and Tyler, not Sophie and Ethan. And I find that the way Sophie's publicly announcing Jaxson's situation is not even remotely funny, I find it very demeaning, humiliating and embarrassing. Definitely not a big fan of her.
Overall, this is one romantic comedy between a geek and his Mr. Right is something I find humorous at time, but the supporting characters are simply over the top. Maybe fans who enjoy Moxie's version of humor might like this more. I'm uncomfortable when joke turned into embarrassment at the expense of other people.
I opened the nightstand and found the toy I had ordered online. A guy I knew from one of the comic forums I belonged to swore by this toy. All right, maybe we talked about all types of things and not just comics on this particular forum. One time there might have been a discussion about which character we would bang and it sort of went off the cliff from there. My choice would be Superman because I have a dream of being plowed while flying at the same time. My second choice would be Spiderman, because I would be curious as to what he could do with all that webbing. Maybe a little Spidey BDSM play?
The toy which sat in my hand was called The Jackhammer. The tag line on the construction-yellow box read, Giving you a Hand at Jacking Off. The man pictured on the box was wearing a hard hat with only the Jackhammer covering his essential parts. His face was contorted into orgasmic pleasure.
I opened the box and pulled out a plastic object that was about ten inches long. The toy was bright, school bus yellow, with one wide end that narrowed towards the bottom, giving it the illusion of a jackhammer. The fuller end was covered in a clear, soft silicone, with a hole in the middle, which I assumed is where your dick was supposed to go. I threw the box on the floor and lay down on my bed, propping a pillow under my head and making myself comfortable.
With vigorous excitement, I grabbed my stiff dick again and slipped the Jackhammer over the crown, slowly bringing it down the shaft. It felt comfortable and effortless as I wiggled it down until it hit the base. Inside of the toy, the ridges of the silicone made my already sensitive dick want to explode.
My eyes rolled into the back of my head as I pulled the toy painstakingly back up the shaft. I moaned and fisted my hand around the outside, so I could get a good grip on the toy to move it up and down. I looked down to see my shaft appear and then disappear again, the ridged edges inside rubbed against my skin, blessing me with exquisite pleasure.
I closed my eyes and brought myself back to the hypothetical frat house. Kaleb's throbbing cock jutted out in front of me, waiting for me to take it into my watering mouth. The other brothers surround us, pulling out their own cocks to stroke while they looked upon Kaleb and I. Kaleb grabbed the base of his cock, clutched a handful of my hair and said, "open up." Of course, I did, because I wasn't going to deny Fantasy Kaleb. I let him fuck my mouth as I took him all the way down my throat. In this make believe world I had no gag reflex and some pretty mad oral skills.
I pulled the Jackhammer faster along my length as I started to feel the familiar sensation of an orgasm settling at the base of my spine. My balls drew upwards and I knew that I was going to blow my load any minute. I moved the toy faster, its suction tightening around me.
Then it happened. Pain. A pain like none I had ever known, almost paralyzing my body. My eyes flew open and a shriek erupted out of my mouth like a coyote being attacked by a T-rex. I lifted my head, almost afraid to look down, and tried to move the toy slightly, but was unable to, pain searing from the tip of my dick, down the shaft, and into my groin.
Holy mother-fucking douche mongers.
My heart flipped from racing with pleasure to running in fear. I started to panic while I tried again to delicately remove the toy. After several failed attempts I knew I was screwed. With precise, delicate movements, I sat up on the bed, reached to the floor and grab the box the toy came in. I examined it and searched if there was a secret release to get this fucker off. I flipped the box over, scanning the words until I saw some directions I failed to read.
Must use lubricant inside silicone to avoid rupture.
Rupture of what? My dick? Holy shit, I had a ruptured dick! I don't want to walk around having my dick split in half. What would that mean if I had to pee? Would it go into two different streams? Do people understand how hard it is to point and aim one stream? Now I'll have two to worry about? What about sex? Will I stick one-half of my dick inside someone while jerking the other side off? Oh, the humanity!
As a little girl it was always a dream for Z.B. Heller to become She-Ra Princess of Power. Since this dream was unattainable, she spent what was probably way too long in college trying to "find herself". Becoming an artist scratched the creative itch until the stories in her head were getting to be to loud for her to get anything else accomplished.
She lives in St. Louis with her husband, son and Flemish Giant rabbit Chloe. In her spare time she likes to read, stalk celebrities on Twitter and create the type of art people scratch their heads about.