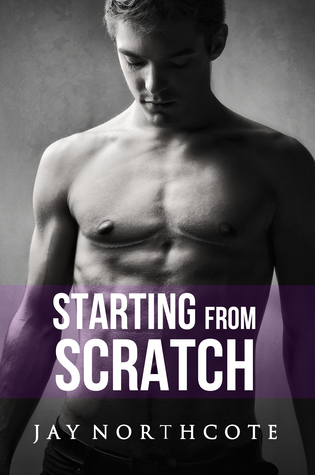 Starting from Scratch
(Housemates #5)
by Jay Northcote
Release Date: April 12, 2017
Goodreads
Starting over isn't easy, but Ben is ready to live his life as the man he was always meant to be.
Ben is transgender and back at university after hormone treatment and chest surgery. His new housemates have no idea about his history and Ben would prefer to keep it that way. He's starting from scratch and his life is finally on track, except in the romance department. The idea of dating guys as a guy is exhilarating but terrifying, because if Ben wants a boyfriend he'll have to disclose his secret.
Sid is drawn to Ben from the moment they meet. He normally gets what he wants—in the short term at least. Ben's guarded at first, and Sid's not used to guys rejecting his advances. He eventually charms his way through Ben's defences and helps Ben on his journey of sexual awakening.
It doesn't matter to Sid that Ben is trans. He's attracted to the whole person, and isn't worried about what is—or isn't—in Ben's pants. They're good together, and both of them are falling hard and fast, but Ben's insecurities keep getting in the way. If Sid can convince Ben he's committed, will Ben finally be able to put his heart on the line?
Although this book is part of the Housemates series, it has new main characters, a satisfying happy ending, and can be read as a standalone.
I love this Housemates series. Each book focused on new young couples, is pretty short, but the romance is always well developed for a novella. This time we have Ben who is a trans. This is the second time I read about a trans character and the first one I read the hero is a hetero. So Ben is my first gay trans.
Ben is a character that deals with a lot of insecurities even after his transition and he keep having moments of dysphoria. Generally hating himself and being envious of cisgender guy. But the angst didn't last long as whenever Sid flashed him a smile, all is forgotten except wanting to get naked and do the dirty.
Sid is a normal bloke, who used to hook up with Jude, Ben's housemate. His history with Jude seems to be a constant reminder in the story, sometimes it irked Shawn (who is Jude's boyfriend) and Ben, but I'm not really bother by it. I like Sid's reaction towards finding out about Ben's secret. His acceptance and attraction towards Ben seems natural. I just love Sid because he is such a romantic and a total sap.
The only think I'm quite skeptical is on Ben's coming out. Do he actually feel obliged to share about the procedure he did or didn't do? As per what he stated, I thought it should be on a need to know basis. Anyway, I'm glad he had a great bunch of supportive housemates. Can't wait to read about the next mate, Johnny and a certain straight guy.
Jay lives just outside Bristol in the West of England. He comes from a family of writers, but always used to believe that the gene for fiction writing had passed him by. He spent years only ever writing emails, articles, or website content.

One day, Jay decided to try and write a short story—just to see if he could—and found it rather addictive. He hasn't stopped writing since.

Jay writes contemporary romance about men who fall in love with other men. He has five books published by Dreamspinner Press, and also self-publishes under the imprint Jaybird Press. Many of his books are now available as
audiobooks
.

Jay is transgender and was formerly known as she/her.