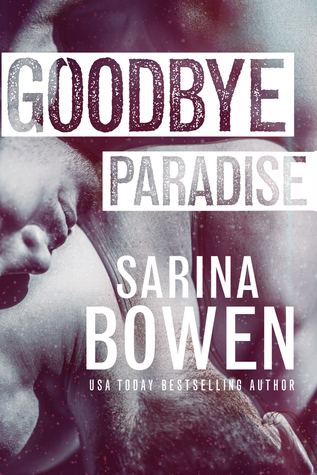 Goodbye Paradise
(Hello Goodbye #1)
by Sarina Bowen
Release Date
: March 21, 2017
Genre
: M/M Romance
Goodreads
Most people called it a cult. But for twenty years, Josh and Caleb called it home.
In Paradise, there is no television. No fast food. Just long hours of farm work and prayer on a dusty Wyoming ranch, and nights in a crowded bunkhouse. The boys of the Compound are kept far from the sinners' world.
But Joshua doesn't need temptation to sin. His whole life, he's wanted his best friend, Caleb. By day they work side by side. Only when Josh closes his eyes at night can they be together the way he craves.
It can never be. And his survival depends on keeping his terrible desires secret.
Caleb has always protected Josh against the worst of the bullying at the Compound. But he has secrets of his own, and a plan to get away — until it all backfires.
Josh finds himself homeless in a world that doesn't want him. Can Caleb find him in time? And will they find a place of safety, where he can admit to Josh how he really feels?
Warning: Contains a hot male/male romance, copious instances of taking the Lord's name in vain, and love against the kitchen counter. This book was previously released under the title: In Front of God & Everyone.
As with everyone, upon reading the blurb, I sorta expect this story to be a bit sad, since we are dealing with a religious cult. But that isn't the tone of the book, it was actually very sweet and swoony for these two virgin young men who grew up in a polygamy community. The best part is with the title Goodbye Paradise and they both actually left the so-called Paradise early on in the story. From then onward is about them navigating the unknown future together, which is awesome to say the least.
Talking about the cult, I'm sure everyone who read True North series remember dear Zachariah. There is a mentioned about him, but too bad we didn't get more. How great to actually merge these two series together, huh.
Josh and Caleb spend their childhood together and when Josh got tossed out of the compound, Caleb isn't far behind to reunite with him. Josh has been harboring a forbidden crush on his best friend, but it isn't something he is going to admit anytime soon. Told in both their POV, Goodbye Paradise is a feel good romance about two innocent men finding their way around love for the first time and of course I always love a good childhood sweetheart story.
We have a few good Samaritans in the story that show us there is still hope for humanity and Josh and Caleb are so lucky to meet them in the time they need help most. I enjoy their journey of discovery the world outside of the compound and finding where their future lies, especially with each other.
There is a big bump on the road towards the end when Caleb had a moment of insanity that I had shouting my dismay. But thank goodness, everything work out fine and we manage to catch of glimpse of Josh going all gung ho about something for once. Josh is such a meek character and a homebody that we thought Caleb is going to walk over him, but fear not, alpha Josh is a sight to behold.