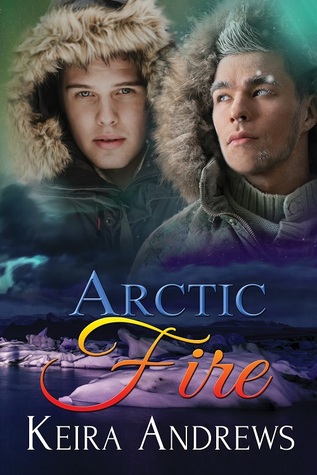 Arctic Fire
by Keira Andrews
Release Date:
October 25, 2016
Genre:
M/M
Goodreads
When two strangers are trapped in a blizzard, heat rises.
Haunted by what he lost in Afghanistan, Captain Jack Turner is at a crossroads. While the last place he wants to go is the Arctic, at least the routine mission gets him out from behind his new desk. But he starts off on the wrong foot with the Canadian Ranger guiding him across the forbidding and dangerous land, and Jack would rather be anywhere than sharing a tent with Sergeant Kin Carsen.
The Arctic is in Kin's blood, and he can't seem to leave the tundra behind. He wishes he could live openly as a gay man, but the North isn't as accepting as the rest of Canada. Although he's lonely, he loves his responsibility as a Ranger, patrolling the vast land he knows so well. But he's on unfamiliar ground with Jack, and when they're stranded alone by a blizzard, unexpected desire begins to burn. Soon they're in a struggle to survive, and all these strangers have is each other.
Note: This gay romance features emotional repression, hurt/comfort, adventure on the tundra, and love where you least expect it.
Arctic Fire first appeared in the military bundle Unconditional Surrender in 2014.
Considering this book is only 100 pages, I knew my expectation is going to be lower. However,
Arctic Fire
still gives a really good story, with both fleshed out characters that got me connected to them. I love the Arctic setting and enjoy knowing about their cultures and custom.
We have
Captain Jack Turner
who used to serve in Afghanistan and now he got a new assignment to the Arctic. Well, it does sounds like a redundant trip, and Jack doesn't seem enthusiastic about it at all. I mean, who would be excited to freeze their rocks off.
Sergeant Kin Carsen
is born and raised at the Arctic and he is proud of his position. He sure as hell doesn't appreciate having a Captain from the South writing off his contribution.
Both men initially getting off on the wrong foot during their first meeting, but once they started their adventure at the tundra, sharing meals and tent together, they soon realize there is more beneath the surface.
Despite the length, there isn't any insta-love. In fact, I find the development of the romance was rather on the slow side and believable. Hotness level was pretty decent, but I still wish for more. I guess the only complaint I had is the rather abrupt ending. I wish there is an epilogue to wrap things up and give me a more satisfying resolution.