Thick & Thin
(Thin Love #3)
by Eden Butler
Release Date:
July 25, 2016
Goodreads
My love was thick.
Her faith was thin.
Somewhere in the middle is where life found us.
I claimed her when I was a boy.
I held her until I was a man.
She was my first thought every morning, my last smile at night, and a million memories in between.
Then one night, with her warmth still lingering on the sheets, Aly King walked away from me, from us, from our life.
They say time heals all wounds, but not for me.
Not when my heart is empty.
Not when there is nothing but a sea of meaningless faces wherever I go.
It always comes back to her.
Aly needs reminding of how drunk our love made us, before she forgets completely.
Before we lose our chance.
Before we are irrevocably broken.
5 'angst and drama' stars
Gah! The previous two books are full of angst, so would I think this will be any different. Eden Butler is an evil sadist queen. I'm so eager to know what happened in between the 10 years gap.
Why is Aly being proposed by someone else, while Ransom clearly thinks Aly belongs to him? Why? Why? Why?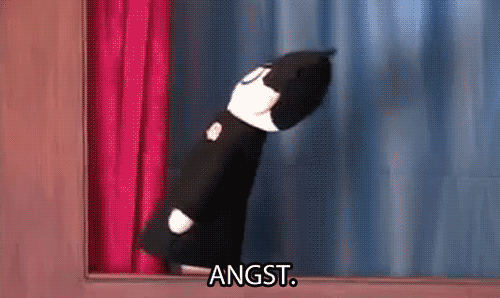 You know, Ransom was merely eighteen in the previous book, so I understand there is a need of growing up for both him and Aly. Apparently, lives get in the way and they drifted apart, but not due to lack of love for each other. We slowly began to understand the reason and experience the heartache for these two young lovers.
Anyway, back to present times, there is this third wheel in the picture, which I despised. What make it even harder is this Ethan seems like a nice guy. Why can't he be a douche? That would make things so much easier. The saving grace is that Aly's relationship with Ethan took place in the beginning of the book. For me, is like ripping off the band-aid, we might as well get over with it stat.
As for Ransom, after getting over the shock of his girl being engage to someone else, he was determined to win her back or maybe back into her good grace. I admire the fact that he didn't go all alpha male on her and demand her love. Despite having a few assholish moment, he did respect her decision and gave her space.
No doubt, they both love each other hard, but sometimes reality sucks more than anything. Aly no longer want to play second fiddle to Ransom's career and also hiding one secret of her own. But I don't see why she need to tie herself to someone she clearly wasn't 100% in love with, which is why I concluded that they were both idiots.
Their problem was pretty drawn out and add on with the marital problem between Keira and Kona, I'm emotional exhausted. Usually this kind of angst and OTT drama left a bad taste in my mouth. I mean,
come on
, she should really just left Keira and Kona alone. Why did she go and stir up so much shit.
I mean a really big pile of shit.
By that time, I'm more worried about Keira and Kona rather than Aly and Ransom.
I don't exactly know why I'm loving this book that pissed me off. But Eden Butler did marvelously save all her evil doing in the end, so I forgive her.
Never forget though.
Overall, I'm sure this will appeal to ladies who are self proclaimed angst-whore.
Aly found me on the small bed with my feet hanging off the end. The air shifted when she opened the door but I kept my eyes tight and the right side of my mouth arched in an expression I was sure looked a little superior. I hadn't cared if it did. Aly'd loved the way I liked to disturb the peace. Sometimes it was her doing the disturbing first.
I cracked one eyelid, pretending to sleep as she entered the pool house, but I couldn't keep my gaze from her. There was moonlight behind her and the soft outline blurred her silhouette so that she looked surreal, like something out of a dream.
She came to me like a whisper; her scent first—a mix of chlorine and vanilla. She'd smelled of summer, a fragrance that would always remind of that woman, my woman, and that lake house. The mattress dipped in fragments, inches that moved softly, her tiny weight only disturbing the stillness enough that every movement amped up my heartbeat. She came slowly, like the promise of something unsettling, unknown and my body responded in anticipation.
"Not going to touch me?"
It was a question I wasn't expected to answer. Not then. Not while Aly played her game.
The darkness around me was heightened by the brush of her damp hair against my mouth and the faint scent of beer coming off her breath when Aly brushed those soft, sweet lips over my cheek, down to the center of my throat.
"What will I do to this body?" Another question. Another silent answer and she slid over me, pressing her mouth down my chest, her fingers trailing the lines of my stomach until her palms lay flat against my ribs. "So much to play with…"
And I let her…the brush of her tongue licking near my navel, her agile fingers stripping me bare until she took me in her mouth—tasting me the way she knew I liked, keeping my hips still as she worked her teeth, her nails over the head of my dick, up and down, until the friction was too much, the suction was, and I didn't want to play anymore.
"You're weak," she'd said, laughing until I was over her. Until I was inside her and that teasing laugh became a moan she could not contain.
"I am." My mouth over hers, my tongue, deepening her moan and all around me, Aly shook. "You're my biggest weakness."
She went silent with the thrust of my body inside her, nails biting tight into my shoulders, her entire body shuddering, shaking when I grazed my teeth against one nipple. She'd taste so sweet, like honey on my tongue.
"And you're mine, shoushou."
The light was low around the lake house with only the soft movement of the water against the beach and the painfully slow creak of that metal bedframe moving as I took all Aly had to give me.
She cried out several times, sultry refrains of "deeper" and "harder, shoushou, harder!" before she clamped around me, before the swell of my need was too great, the ragged panting of our breaths heating together and we both came hard and those breaths went from labored and gasping to slow and even. She filled my senses—a touch that weakened me, a taste that leveled me and the sharp-sweet feeling of belonging that lived in that small room, just us, fitting together like waves against rock, where we were meant to be.
Eden Butler is an editor and writer of Fantasy, Mystery and Contemporary Romance novels and the nine-times great-granddaughter of an honest-to-God English pirate. This could explain her affinity for rule breaking and rum.
When she's not writing or wondering about her possibly Jack Sparrowesque ancestor, Eden patiently waits for her Hogwarts letter, edits, reads and spends way too much time watching rugby, Doctor Who and New Orleans Saints football.
She is currently living under teenage rule alongside her husband in southeast Louisiana.
Please send help.
a Rafflecopter giveaway