Dark Notes
by Pam Godwin
Release Date:
April 5, 2016
Goodreads
They call me a slut. Maybe I am.
Sometimes I do things I despise.
Sometimes men take without asking.
But I have a musical gift, only a year left of high school, and a plan.
With one obstacle.
Emeric Marceaux doesn't just take.
He seizes my will power and bangs it like a dark note.
When he commands me to play, I want to give him everything.
I kneel for his punishments, tremble for his touch, and risk it all for our stolen moments.
He's my obsession, my master, my music.
And my teacher.
5 'erotic masterpiece' stars
"We're a timeless concerto. A musical masterpiece."
I'm never interested in the
teacher/student
romance bandwagon. I don't understand the appeal and the few I've read didn't stir my interest. But
Dark Notes
just proves to me how can a well written teacher-student romance can make me a convert. This book is so
forbidden, scandalous, dirty and hot hot hot
! I feel like I'm constantly on fire while reading this from the beginning till the end. Is a miracle that both me and my kindle doesn't look like a pile of charred meat now.
Emeric Marceaux
, O-M-Goodness, even his name is so goddamn sexy. He's the new Head Music Instructor for Le Moyne, who left his previous school with a sordid reputation and a resentment. Although he is only 27, which I feel that is too young for me, he blew my expectation out of proportion by his
maturity, stoicism, dominance and don't-fuck-with-me vibe
.
He seems untouchable. Maybe his fists are as brutal as his beauty. Just looking at him feels like I'm inhaling a lungful of fire.
Ivory Westbrook
, 17, is a piano prodigy and an underprivileged student at Le Moyne. She deals with hostility and harshness from her peers and did things she's not proud of pay the bills. She's a girl who came from a broken family and overlook by the system, but still possess a fighting spirit and adamant to succeed in her musical career.
She's exactly the kind of woman I'm drawn to. A woman who flees when hunted and comes alive when she's caught. A woman who bends beneath punishments and seeks acceptance in her humiliation.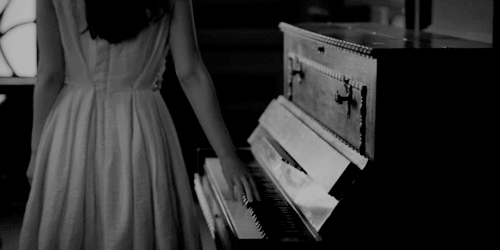 We've read about sexual tension, the overuse of eye-fucking, but Pam Godwin brings a whole new meaning to sexual tension with her
vibe
fucking. Seriously, Ivory and Emeric don't even need to look each other on the eye in their class, and the tension is so palpable, as if something is going to detonate at any second.
The tempo of our breaths. The drum of our heartbeats. The crackle in the air. The exquisite cadence pulses through me, awakening sensations I've never felt, composing a melody I've never heard.
Without a doubt, for me, Emeric is one of the best and most unforgettable heroes that Pam Godwin written to date. Even with the mentioned of his ex-girlfriend, ex-lovers, his
high-handedness, bossiness, over-protectiveness
that is
borderline stalkerish
, I'm totally soaking it all up. He is quite a kinky bastard, but even if I took out the BDSM element in the story, I still loves him. Like what Ivory mentioned,
'If you can't get it up, I still loves you,'
because his love for his girl know no bounds and he loves selflessly.
I'm his ivory, and he's my darkest note.
She's in my veins, fiery and weightless. She's in my head, like a whisper of promises. She's in my heart, softening it, mending it, and making it pump again.
Dark Notes
might just be the erotica of the year for me. Highly recommended for erotica fans or teacher/student romance lovers. You don't want to miss this out!
"We'll compose our own masterpiece. A sing that will never end."
New York Times and USA Today Bestselling author, Pam Godwin, lives in the Midwest with her husband, their two children, and a foulmouthed parrot. When she ran away, she traveled fourteen countries across five continents, attended three universities, and married the vocalist of her favorite rock band.
Java, tobacco, and dark romance novels are her favorite indulgences, and might be considered more unhealthy than her aversion to sleeping, eating meat, and dolls with blinking eyes.
a Rafflecopter giveaway