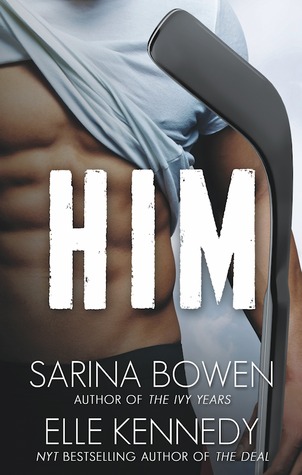 Him
Him #1
by Sarina Bowen and Elle Kennedy
Publication Date:
28 July 2015
Goodreads
They don't play for the same team. Or do they?
Jamie Canning has never been able to figure out how he lost his closest friend. Four years ago, his tattooed, wise-cracking, rule-breaking roommate cut him off without an explanation. So what if things got a little weird on the last night of hockey camp the summer they were eighteen? It was just a little drunken foolishness. Nobody died.
Ryan Wesley's biggest regret is coaxing his very straight friend into a bet that pushed the boundaries of their relationship. Now, with their college teams set to face off at the national championship, he'll finally get a chance to apologize. But all it takes is one look at his longtime crush, and the ache is stronger than ever.
Jamie has waited a long time for answers, but walks away with only more questions—can one night of sex ruin a friendship? If not, how about six more weeks of it? When Wesley turns up to coach alongside Jamie for one more hot summer at camp, Jamie has a few things to discover about his old friend...and a big one to learn about himself.
Warning: contains sexual situations, skinnydipping, shenanigans in an SUV and proof that coming out to your family on social media is a dicey proposition.
( 5 stars )
I decided to bump this up from my TBR because the sequel is around the corner and is the best decision ever. I'm not much of a NA fan, but being a M/M lover, I had been wanting to read this for a long time.
Jamie and Wes'
story is so refreshing and I enjoyed the unpredictability of their action and their journey along the way.
We have the best romance recipe here:
childhood friends to lovers and unrequited love and add in the whole I'm-not-quite-sure-about-my-own-sexuality.
I consider them both as childhood friends since they know each other from hockey camp since thirteen. Every year they will spent the summer together, playing hockey and taunting each other. Mostly Wes' daring Jamie into joining his mischief. Everything was perfect until one year, Wes decided to make a move on his obviously straight best friend and they were disconnected for years ever since.
Few years later, Wes and Jamie are playing on different team for their respective college and they met again at the arena. Wes tried to make amends and adamant to win back his best friend, even if he had to hide his true feelings.
Aww... I'm a sucker for these unrequited love story.
To bring matter in his own hands, Wes even signed up to coach at their summer camp together with Jamie for the first time and they manage to reconcile their friendship. However, lines get blurred when Jamie started to feel the weird kind of jealousy when Wes paid attention to other men.
Wes should be happy that Jamie is not as straight as he should be, right?
But poor Wes was caution and dare not hope for much. I thought he was pretty selfless in the process of helping Jamie discover his sexuality.
The highlight of a m/m is always the sex for me. But in this story, I love their connection and strong friendship. Even the dilemma and drama that they have to go through just make their relationship even stronger. Wes is such a dear and I love his humorous POV even when he was making fun at his own expenses. Jamie is more of a level headed person and more serious. They both complement each other really well. I just adore their dynamic.
"Loved you every summer since I was thirteen years old. Love you even more now."