Facade
A Modern Romance Inspired by The Phantom of The Opera
by Kim Carmichael
Release Date:
March 23, 2016
Goodreads
The world is nothing but one big façade. You have to be special to see the behind the mask.
Erik Renevant once lived in the spotlight. As lead singer for the wildly successful group, Specter the world revered him. When an accident destroyed his band and his face, he chose to live his life in the darkness, hiding away from the shadows of his former self and refusing to be seen again.
Christine Day longs to have her chance in the spotlight. Living her life flitting from one thing to the other and currently without a permanent residence, she sees her big break in becoming the backup singer for an unknown band and entering the Stage of Stars, the latest hit reality competition.
When Christine wanders into Erik's perfectly controlled world and he hears her voice, he knows she is destined for super stardom. However, he never dreamed she would be the one to help him shatter his own façade and lead him into the light.
Façade is inspired by the beloved story of the Phantom of the Opera and is a combination of all the different incarnations.
(4 stars)
Kim Carmichael gives a romantic twist to The Phantom of the Opera.
This is my first book by Kim and I was drew to the book due to its inspiration by one of my favorites classical read. I don't recall much of the original, but its definitely not a feel good romance. So I'm really looking forward to see my Erik getting a HEA this time around.
Erik
, was once the lead singer of a popular rock band named Spectra until the day his face was scarred by an accident while performing on stage. Since then he had been secluding himself in the theater he bought.
Christine
is a wanderer and a dreamer. She is practically homeless and penniless, only armed with a great vocal. She was initially a back up singer for an amateur band that is planning to audition for a reality talent show.
Upon a chance occurrence, Christine came across Erik's theater and was enamored by its beauty. She can't stop herself visiting it repeatedly, until she finally came across its enigmatic masked owner. Erik turns out to be a gifted musician and wanted to coach her win the talent show.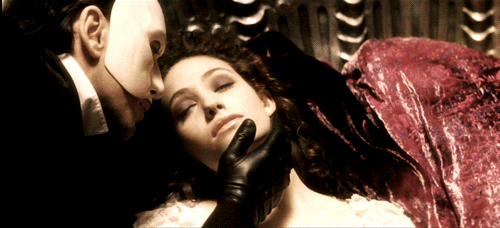 "I want to see you."
"There's nothing to see, everything in life is a facade."
Facade does read like fairy tale. It does have some magical touch to it, like how a homeless girl manage to find the one man who help her succeed in life and she in turn accept him despite his flaws. I think Kim only manage to skim the surface of the complexity of her characters. I wish I know more of Christine's past and her life on the street and how did Erik manage to live a secluded life for a decade. All these are being touched on, but not really in depth. However, the characters interaction and the overall pacing of the story makes this a really engaging read for me.
"You can't make me better, Christine."
"I don't want to make you better. Don't you see? I wanted you to make me better."
Most of the story centered around their music. I wish Kim can include some of the lyrics to make us feel more connected to her feelings and emotions. One thing I find it bothersome is the celebrity judges' critics. They sound really fake and cheesy. Did American Idol's judges sounds that awful? Maybe.
The ending with the epilogue is a nice touch. It would have been better if this book is longer and I get to read about how their journey continues from the last chapter to the epilogue. It is something really worth exploring in my opinion.