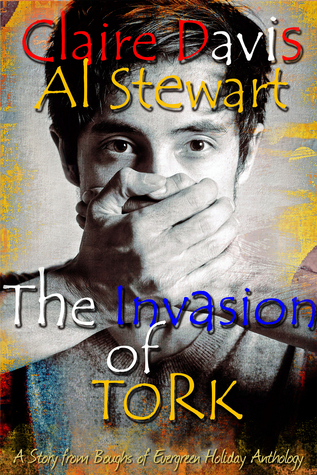 The Invasion of Tork
(Tork and Adam #1)
by Claire Davis & Al Stewart
Genre:
M/M
Publication Date:
1 December 2014
Goodreads
Adam is cool, intelligent and drop-dead gorgeous - all the guys tell him so! When he is forced to start voluntary work at the local homeless shelter, all he worries about is keeping the clients well away from him and finishing the placement as soon as possible. Until he meets Tork.
Tork is clever and funny. He makes origami models and reads Dickens. Tork has green hair and makes Adam's heart race with longing. But Tork is homeless and not at all impressed with Adam's attitude.
Can Adam see past his fear and arrogance? Can Tork give Adam a chance?
Can two such different men turn the world upside down and find out what really matters? Read to find out their story.
( 4 stars )
This freebie is so worth it. Is short and cute and meaningful.
Tork
is a homeless young man. I don't get to know the real reason why he is homeless or the real facts about what he endured while being on the street. But his POV had a poignant feel to it that make my heart ache for this lonely man.
Adam
is a college kid and a
world class jerk
. He involuntarily volunteer in the shelter in order to get a good reference for college. His had a
super-sized ego, rude, selfish, narcissist
and etc. I'm sure his character is suppose to make people hate him, but I just laugh it off as part of the humor of the story.
Which lucky guy will get the pleasure of my company, and maybe more, tonight? So many lays, so little time.
Every week Adam reluctantly went to the shelter passing our food parcel, while internally hating the work. This is where he met Tork, the green hair exotic creature that he was not suppose to be attracted to.
He is stunning and extremely doable. Except he's so far down the evolutionary ladder I doubt I'd consent to him cleaning my shoe.
Honestly, Adam deserve a punch to the face at more than one occasion.
Anyway, when Tork try to evade Adam at every turn, Adam who suffered a bruised ego, decided to start
'The Invasion of Tork'
, which I find it extremely sweet and funny despite his motive. Later, Adam start to realize that Tork is more than just a no-good-doer homeless man.
Overall, despite the short length of the story and the lack of character background, I love this book and wish it was longer. Seriously. Such good stuff shouldn't be so short. I appreciate the fact that although the pace seems slow, but there is a lot of heart to the story and it makes me cry a few times. I can't wait to buy the sequel now.
I want to kiss him more than I want to follow the rules or remember why I cannot trust, or hope, or notice the sun.