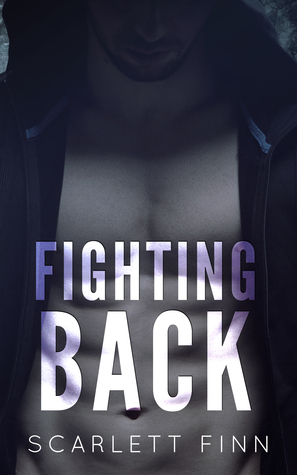 The fight was supposed to be over, but the Stark family aren't willing to let go of Dax yet.
Dax and Ivy Harrow have moved on and started a new life when out of the blue Brad Stark shows up and tells them that they have unfinished business.
Trying to protect Dax from the darkness of his previous life puts Ivy at risk from an unseen enemy. Swearing to ensure her safety, Dax must use every tool in his arsenal to identify and eliminate the danger.
But love alone won't be enough to save Ivy's life this time and to keep her alive Dax may have to surrender to the demons he wants to bury. The future that fate promised him will be lost unless he can stand up to his past. But sacrificing himself may be the only way to save the woman he loves.
Warning: Contains explicit language and imagery.
When
Fighting Back
landed in my Kindle, I had no idea it was the sequel for
Fighting Fate
. That's how clueless I am. So I went back to read my own review to refresh my mind. Now I recall that the ending wasn't all that satisfying because there isn't an epilogue and Dax just left the Stark family without much hiccup.
Dax Harrow
was the enforcer for the Stark family and was treated as the surrogate son of the boss, Maurice Stark.
Ivy
was the down on her luck girl targeted for a payback by Trystan Stark. She was kidnapped and to be trained to service Trystan, but she met Dax and the rest is history. Now Dax and Ivy is away from the Stark and happily married, or so they thought.
Maurice's days are numbered and he wants Dax back at his side. Dax is conflicted, but he want to see his mentor again. Ivy was pissed that they have to go back to LA, her definition of hell, but if Dax wants to go, she will be there for her husband every steps of the way.
The best part of this sequel is the relationship between Dax and Ivy. They genuinely sounds like a pair of old married couple bickering about every little things. There is this strong vibe of
'I love you, but I can't stand you'
.Dax still sounds like the misogynist caveman that he is, most of the time telling Ivy,
'Fuck yeah, I am the man'
. But we know he loves Ivy to the moon and back.
"I protect my property, and you are prime real estate that I plan to inhabit for a long time. Nothing takes you away from me, nothing, not even yourself."
As for the drama that happened with Maurice's clan and the ensuring danger to Ivy, I'm not feeling invested in that storyline. Instead of having Dax going on a wild goose chase looking for the person who wanted to harm Ivy, I rather to have more drama either from Brad or Trystan. With Maurice wanted to pass his business to Dax, I was hoping Brad will have a grand scheme and Trystan to stir up more shit. But the whole plot on things that happened in LA just doesn't feel strong or suspenseful enough. I think what I'm trying to say is I need more real violence, instead of an illusion to violence. More bullets, more blood.
Overall, I'm glad Scarlett Finn wrote this book because I just love reading about Dax and Ivy and their blossoming relationship. They went through so much together and despite all the stress, they still pose an united front. There still isn't an epilogue for this sequel, so I have to wonder is Scarlett still considering Book 3? I would be delighted about it.