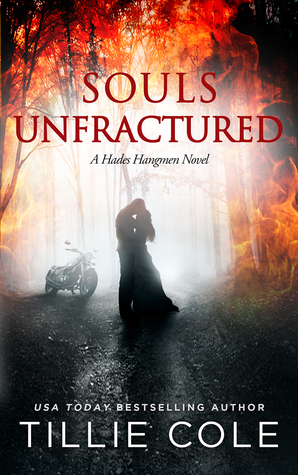 "For fractured souls are like magnets.
Drawn to collide into an impossible bliss…"
Labeled a 'Cursed' woman of Eve from birth, Maddie has endured nothing but pain and repression at the hands of The Order's most abusive elder, Moses. Now living with her sister in The Hangmen's secluded compound, finally, Maddie, is free. Free from the suffocating faith she no longer believes in. Free from endless years of physical and mental torment.
Just… free…
At age twenty-one, the timid and shy Maddie is content to live within the confines of her new home—safe from the outside world, safe from harm and, strangely, protected by the Hangmen's most volatile member; the heavily pierced and tattooed, Flame.
Flame.
The man who ceaselessly watches over her with his midnight dark and searing eyes. The man who protects her with a breath-taking intensity. And the man who stirs something deep within her numbed heart.
But when circumstances conspire for Flame to need HER help, Maddie bravely risks it all for the broken man who has captivated her fragile soul.
The Hangmen's most infamous member, Flame, is ruled by one thing—anger. Plagued by haunting demons from his past, an all-consuming rage, and isolated by an abhorrent hatred of being touched, Flame's days are filled with suffocating darkness, pierced only by a single ray of light—Maddie. The shy, beautiful woman he cannot purge from his thoughts. The woman he has an overwhelming need to possess…
... the only person who has ever been able to touch him.
Flame's mission in life is to protect Maddie, to keep her safe. Until a trigger from his troubled past sends him spiraling into madness, trapping him in the deepest recesses of his disturbed mind.
His Hangmen brothers fear that Flame is beyond saving.
His only hope of salvation: Maddie and her healing light.
Dark Contemporary Romance.
Contains explicit sexual situations, violence, disturbingly sensitive and taboo subjects, offensive language, and very mature topics.
Recommended for age 18 years and over.
5 "hauntingly beautiful" starsFlame
had been taking over my GR and FB feeds by storm. It reminds me of a time when all my friends have been gushing over one of the famous tortured hero,
Zsadist from Black Dagger Brotherhood
. And now
Flame
definitely joined in the rank of my top favorite tortured hero ever that grace the page.
People said I was a fucking freak. All my life they'd told me I was born wrong.
This is a story that guaranteed to touch your heart and your fucking soul. It makes you want to cry and bleed your heart out and then it will mend back with every little steps that Flame took towards his recovery. That's the beauty of romance because no matter how much we hurt, we know the ending will be so worth it every second of it.
The flames never calmed.
They forever fucking burned.
But with her...
I wanted to grip her tighter.
I don't think I have ever anticipate a simply touch between two characters so damn much.
A hand holding mine.
One simple touch.
A touch that said so much.
Flame's story amazed me. In the beginning when Flame was described to be all feral and uncontrollable, I was so anxious and worry on how will Tillie Cole pull this off and get him a HEA. I need something believable and I'm not going to be satisfy for a pussy to be the magic cure. But damn if Tillie Cole surprised me yet again with how brilliantly she crafted the story for Flame and Maddie. I love every single moments of these two grace the page.
"I have the urge to fade, to never wake again. But then something happened to me. Someone happened to me... You."In front of me was my Flame... and I was his Maddie. Two fractured souls made whole only by the other's unconditional love.
The only thing that I'm not happy as with everyone else will be the damn cult. Ever since Book 1, I wanted them dead and gone. I just can't stand anymore of the graphic description of the torture and the sick culture they practice. There are another three books in the series, honestly if they still survive until the end, I don't know how will I cope with my inner beast.
In order to enjoy
Souls Unfractured
, I think you have to at least read
It Ain't Me, Babe
to get an understand for the Hangmen MC and their altercation with the cult that is full of pedophile preying and brainwashing the innocent young girls.
"I know I don't see the world like everyone else does. But I want to see your world, Maddie. Even if it's the only one I'll ever understand."