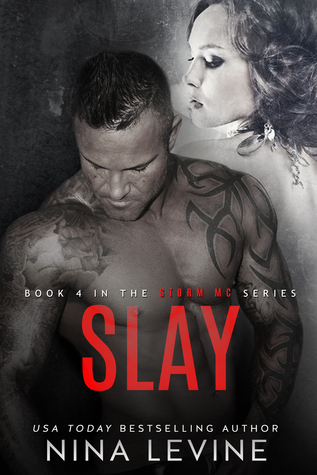 Slay by Nina Levine
Excerpt
BLOOD WILL BE SHED...

The ghosts of Donovan "Blade" Brookes' life are closing in on him.

Hardened by an abusive childhood and haunted by the murder of his fiancé, Blade struggles against the dark forces threatening to consume him. When he helps Layla Reed in her hour of need, he has no idea she will be the light to his darkness. As they spend more time together, he is powerless to fight his desire for her. Powerless to fight his need for her. However, as his feelings deepen, he pushes her away, reluctant to drag her into his world. With enemies coming at him from all directions, Storm MC needing his help to fight off a rival, and his father still causing him grief, Blade needs the love of a good woman now more than ever. Can Layla push Blade to the edge and get him to admit to both of them what he wants? Or will the darkness pull him under once and for all?
Genre
Contemporary
Review
I really like #2 with Scott's story and love #3 with Nash's story. So it pains me that I ended up not really liking Blade's story as much as I'm supposed to. Blade's character was pretty hyped up since #1. He was the badass character that swoop in to save the day at all the crucial moments, which I'm not quite happy with because I felt that he stole the limelight away from the other heroes.
Back to Slay, we have Blade aka Donovan who was a gang leader and half brother to Scott and Madison. Three years ago, his fiance, Ashley was raped and murdered. To this day, he was still haunted by her memories.
The heroine, Layla is the owner of a bar that Blade had been frequenting for a year. Layla was depicted as this ball buster, a woman who is independent and able to take care of herself and others. She took it upon herself to save her cousin sister and took absolute care of her.
This book had all the recipes and words that should make this work for me. The tortured hero who think he can't find another woman who can accept his darkness and a gung ho heroine who is able to look past his scarred soul.
However, I just seems to have problem over problem with the way this book was delivered.
1.
Blade
killed people for Godsake. His is a badass motherfucker. So for everyone around him keep complimenting how he is a
'good man'
just seems off. I just wish he is bad all the way and people should acknowledge that.
2.
Layla
is a selfless person. I get that. But I don't need everyone around her keep complimenting how she is a
good person'
. You see the pattern there? What's up with all these compliment throwing around.
3. Layla was portrayed as this totally understanding woman and I was cheering for her. But all of a sudden, there is a scene that she turned into a pouting teenager and give Blade the silent treatment just because he was busy to fuck her make me felt a whiplash of personality contradiction.
3. Merrick is Blade's right hand man. For him to keep dishing out relationship advise to Blade is plain weird. What's up with all these hard man talking about feelings.
4. The relationship between Blade and Layla is so intense from the beginning. Every time when they are alone, all they want to do is rip each other clothes off. The sex is intense and amazing, but it was getting old after a few times. It turned repetitive and I started to skim.
5. Too many
'thank fuck'
in both Blade and Layla POV. I was surprised that they both cursed the same way in their mind. There is just something about overused words that annoyed me.
Rating 3/5