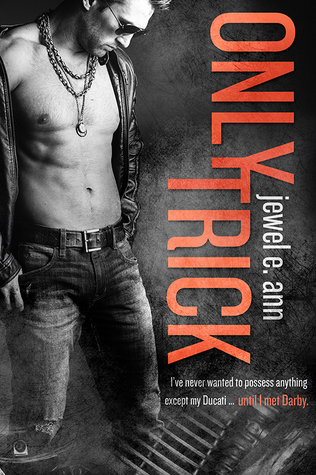 Only Trick by Jewel E. Ann
Excerpt
"Don't Look Back in Anger"
In one night, I lost five years of my life. Here's what I know …
I was homeless.
I'm a recovering drug addict.
My inked skin crawls from lustful eyes.
I have a serious aversion to women.
My gay partner is a home wrecker.
I own a gun and I'm a damn good shot.
I'm a makeup artist, but it's an insult to my talent.
I've never wanted to possess anything except my Ducati … until I met Darby.
Now here's what I know since that day in the ER when she pieced me back together … nothing—but a few random thoughts.
My new "friend" is distracting, clingy, and obsessed with acronyms, emojis, and phrases like "breakfast soul mates."
I didn't want to like her, but she crawled under my skin and swallowed me whole. Now we're best friends and she's my new addiction. I'd drink her from a shot glass, snort her up my nose, or inject her into my veins if I could. What I won't do … is ever tell her that.
She doesn't know me … I don't know me. When those missing years come back, I think she will hate me … I think I will hate me.
My parents named me Patrick Roth, and this is my story.
Genre
Contemporary
Review
Prior reading this book I had no idea there are so many meanings behind the word'squirrel'.

Squirrel: a person who gives alot of blow jobs, they always have a mouth full of nuts.
The Squirrel: the action of inserting your nuts in a girls vagina while fucking
Dirt Squirrel: a typically shorter, unkempt, unwashed, tatted-up individual who will more than likely fuck you in the ass and steal your wallet
Flying Squirrel: Stretching your scrotum and balls over a person's face, and laying your penis on their forehead, resembling a flying squirrel with its arms spread.

Really? Who the hell came up with those?

When I read the blurb and saw the cover, I'm anticipating a dark read, one with some much needed male POV. I was disappointed to find out that the whole book was told from the heroine POV, which is full of chicklit humor. I'm not against her inner babbling that drew out a few laughs from me, is just not really what I'm expecting when I pick this up.

I enjoyed the general gist of Darby, the physician assistant lusting after her new gay BFF, Trick who is a makeup artist and the mystery surrounding his past. How do you describe woman's blue balls? Poor girl.

Maybe I'm a masochist. Being around Trick and knowing he doesn't want me the way I want him is masturbation without the release.

Trick's POV is so little and far in between, which is such a shame. I'm instantly intrigue with his brooding persona and mystery on his past. Obviously he isn't gay, but why he let people assume he is?

The first quarter was interesting, despite Darby tends to talk too much, but from 40% until 80%, I felt like the story lack direction and left me feeling as if I'm reading fillers. Everything is so lovey dovey, the whole being in a relationship. I am desperately waiting for something to happen ASAP and also questioning how many pages in there in the book. I was also suspecting the progression bar below my Kindle is not working right.

I'm struggling with what I should rate for Only Trick. I was partly intrigue, partly bored. The last 80% things finally pick up where Trick past catch up with him and Darby. I've spent the whole book waiting for the other shoe to drop, so forgive me if I start making up farfetched story in my head. Long story short, I felt the ending was a bit anti-climatic.

I think with some filler removes and giving a more interesting past to Trick might make this one better for me.
Rating 3/5