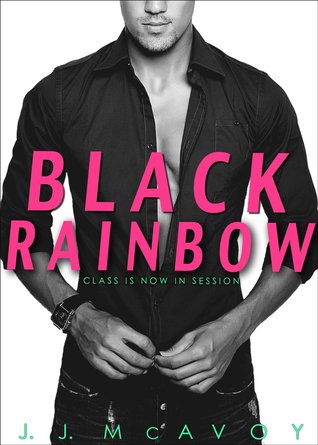 Black Rainbow by J. J. McAvoy
Excerpt
After an erotic one-week fling with a musician she meets in a bar,
Thea Cunning
never expects to see
Levi Black
again. Then Monday morning comes around, and she discovers that her former lover is not only her professor, but he's also one of the top criminal lawyers in the state of Massachusetts.
With everyone in class vying to be one of the twelve disciples—a group of twelve students that Professor Black takes under his wing—tensions run high. Thea considers dropping his class, given their passionate week together and their undeniable chemistry. After all, there are other (less infuriatingly sexy) law professors on campus.
But to accomplish her goal and get her father out of prison, Thea knows she needs to learn under the best of the best—and that's Levi Black.
But can she learn under the best, without being under the best?
Genre
Contemporary
Review
I was never into the whole teacher-student trope, in fact I never even read one with the theme. The sole reason I read Black Rainbow is because of my love for J. J. McAvoy's Ruthless People series. I love her over the top, outrageous mafia story. Liam Callahan and Melody Giovanni are like Mr and Mrs smith on crack!
During the beginning of Black Rainbow, I'm not really that impressed. The story started with Thea Cunning, 23, law student, found out that the guy she had been screwing for a week is Levi Black, 36, is her law Professor. J. J. recounted their past from day 1 to day 7 and during this revisit to the past, I find it draggy and didn't have much substance. We knew they fuck, they talk and they get to know each other. But I'm more interested in the present. I would prefer she get the 'past' wrapped up in one chapter and move on.
The present, which I'm more invested in didn't actually put too much emphasis on their forbidden romance aspect. This might be a let down to those who read this solely for the teacher-student angle, but it doesn't bother me. I actually prefer the part where Levi recruited Thea to take part in his case and they act like a boss and employee who hate each other nerve, but still wanted to rip each other clothes off.
The Levi during their fling was such a charming fella, but the Professor Black is the boss from hell. Is fun to see the different faces of Levi Black. He was acting all hardass, a total sadist and trying to force Thea out from his class. But when Levi is in love, he had this mushy side that is totally endearing. His sappiness is not overly cheesy, just the right dosage that make me swoon over.
Thea, on the other hand, is not just a law student, she is a woman on mission to save her dad from death row. Cue for the suspense. Due to her history with her mother 'The Shark', a prominent figure in the courtroom, she is one tough woman guarding herself with a steel wall and it take much effort from Levi make his way through her heart.
I love a good suspense. To me, the suspense came in too late and solve too quickly. There were so much happening during the last 20% of the book. Honestly, there is a lot of things took place in Black Rainbow, from their initial teacher-student relationship, to acting like professional working on cases, to them finally agreeing to be together, Thea's not so pretty childhood, Levi's family, his ex-wife and the injustice for Thea's father. Holy hell. Why did the poor author try to put everything into 288 pages? She can easily make it into a trilogy or maybe just extend a couple for more chapters to make things flow better. I felt like there were a lot of crucial moments that happen behind the scene.
Overall, I enjoyed Black Rainbow very much, despite nothing get blown off and not blood spattered around. I wish I get to see more of Levi and Thea together kicking ass in the courtroom. I'm a devoted fan of J. J. McAvoy. Can't wait for her next book.
Rating 4/5