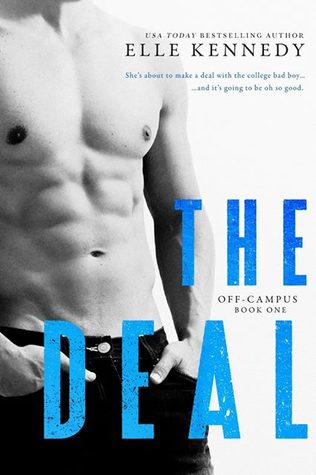 The Deal by Elle Kennedy
Excerpt
She's about to make a deal with the college bad boy...

Hannah Wells has finally found someone who turns her on. But while she might be confident in every other area of her life, she's carting around a full set of baggage when it comes to sex and seduction. If she wants to get her crush's attention, she'll have to step out of her comfort zone and make him take notice…even if it means tutoring the annoying, childish, cocky captain of the hockey team in exchange for a pretend date.

...and it's going to be oh so good.

All Garrett Graham has ever wanted is to play professional hockey after graduation, but his plummeting GPA is threatening everything he's worked so hard for. If helping a sarcastic brunette make another guy jealous will help him secure his position on the team, he's all for it. But when one unexpected kiss leads to the wildest sex of both their lives, it doesn't take long for Garrett to realize that pretend isn't going to cut it. Now he just has to convince Hannah that the man she wants looks a lot like him.
Genre
Contemporary
Review
This NA might be formulaic, the plot is nothing new. But Ella Kennedy manage to make it fun and entertaining nonetheless. I devour this book in one sitting and can't keep the stupid grin off my face throughout.
We have the cocky jock, Garrett Graham, who is totally shameless. Then we have a music major, Hannah, who might be plain, but kinda awesome in her own way.
The Deal: Garrett need a tutor to help him ace for the Ethics. Hannah got manipulated by Garrett to agree to tutor him in exchange for helping to boost her popularity to attract her crush.
I read a lot about popular, confident, cocky jock, but most of them had that kind of asshole-ish behavior that make you want to strangle them. Garrett might just be the likable one. I love his shameless confident on himself. I think the main attraction of this book to me is the humor and the fast pacing. Although both the character came with the prerequisite 'baggage', it didn't overshadow the light tone of the book. I'm actually glad for this because I had enough of reading about gloomy and angsty NA. I think the only part that I don't like is the Logan's crush on Hannah part. Come on! What's the point?
Recommended for those who looking for a fun, enjoyable NA that left you totally satisfied.
Rating 4/5