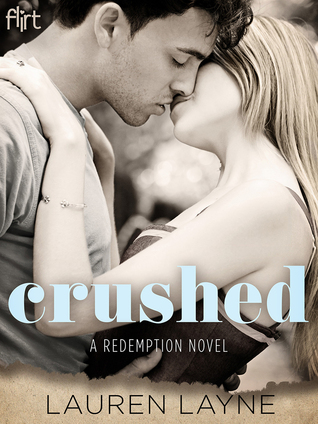 Crushed by Lauren Layne
Excerpt
Growing up in New York, Michael St. Claire never expected to spend his twenties wearing cowboy boots. But that was before he learned about his real father, a total stranger with a family in Cedar Grove, Texas. Once in the Lone Star State, Michael meets Kristin Bellamy, who is exquisitely refined and everything Michael always thought he wanted in a woman. The only problem is that Kristin is dating Michael's new half brother, Devon.
Kristin's mouthy, curvy sister Chloe has always been in love with Devon Patterson. So when Michael offers to help Chloe break up Devon and Kristin, Chloe agrees to a deal that seems too good to be true. Before long, Chloe finally gets her man, only to make a startling discovery: She no longer wants the guy she had to fight for—she wants the one who stood by her side.
After all he and Chloe have been through, Michael swears he's damaged goods. Can Chloe convince him that love is worth the risk?
Genre
Contemporary
Review
I find myself enjoying this one more than
Broken
. The theme we have here are the
unrequited love/feelings and the whole ugly duckling thing.
Michael is part of the love triangle fiasco between Ethan-Olivia-Michael. He is the guy who was pining for his best friend's girl for years. He got crashed and burnt and add on with the fact that he found out he is a bastard son, he pretty much turned into this moody, grouchy, reserve guy. Now he is in Texas, searching for his biological father to find some closure for himself and get away from all the heartache.
Chloe is very much the ugly duckling in this story. She had wild, curly hair, weight issue and totally overshadowed by her
barbie
sister. Chloe is one of the most bubbly and lively character I've ever read. I mean girl loves to talk, but she can talk and joke like nobody business and even grouchy Michael is having a hard time keeping a straight face when she called him
beefcake
. Behind all the sarcastic jokes and colorful personality lies a girl who is pining after her sister's boyfriend, Devon for a decade.
When Michael learn about Chloe's situation, he step in to help her to win the guy with the motive of getting close to meeting his real father. You see, Devon happened to be his half brother. In between, gym lesson and hanging out, they both formed a tight platonic friendship. Chloe turned from being a nuisance to him, to becoming his friend and confidant. Let just say Chloe is such an awesome friend, the one who will standby you during tough times.
There was unrequited love from Chloe's part towards Devon, but I mostly chalked up to teenage crush. But the unrequited feelings from Michael towards Chloe was evoking all the sappy emotion in me. It seems like a sense of deja vu for Michael to be having feelings for a girl who will never return it. Again.
Although I don't feel much for Michael in previous books, I really sympathize with him here. He is always the sidekick, the second best. No, not even that because when Olivia broke up with Ethan, she went and feel in love with someone else. You can't help but feel sad for Michael. So when he start having feelings for Chloe, is understandable that he will NOT be doing anything about it.
Been there, done that
.
"I tried being someone's second choice. I can't do it again."
Of course it goes without saying that when Chloe start looking desirable, Devon finally noticed her. She wanted Devon for so long and when it finally happened her heart is no longer there. Because all this while it was Michael who stood by her and cheering for her.
"I want the guy who wanted me before I turned into a swan."
The end scene with the sudden cameos from Ethan-Steph and Olivia-Paul was not welcome by me. I'm all for catching up with the previous couples, but this time it felt force. Like force down my throat kind of force. Anyway, I also agree that the groveling part from Michael is not enough.
Overall, I still enjoyed it very much. I actually like Michael more than the previous hero, Paul. The plot is engaging and had me flipping pages, just to find out what more crazy things can be sprout from Chloe's mouth and even the angry, grouchy Michael is endearing to me.
Rating 4/5