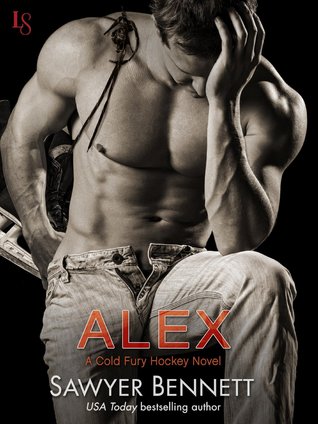 Alex by Sawyer Bennett
Excerpt
Hockey star Alexander Crossman has a reputation as a cold-hearted player on and off the rink. Pushed into the sport by an alcoholic father, Alex isn't afraid to give fans the proverbial middle finger, relishing his role as the MVP they love to hate. Management, however, isn't so amused. Now Alex has a choice: fix his public image through community service or ride the bench. But Alex refuses to be molded into the Carolina Cold Fury poster boy . . . not even by a tempting redhead with killer curves.
As a social worker, Sutton Price is accustomed to difficult people--like Alex, who's been assigned to help her create a drug-abuse awareness program for at-risk youth as part of the team's effort to clean up his image. What she doesn't expect is the arrogant smirk from his perfect lips to stir her most heated fantasies. But Sutton isn't one to cross professional boundaries--and besides, Alex doesn't do relationships . . . or does he? The more she sees behind Alex's bad-boy fa ade, the more Sutton craves the man she uncovers."
Genre
Contemporary
Review
After reading
The Deal
, I was hoping to read another one with a hot ice hockey player and this one sounds right up my alley.
In the beginning, Alex was described as MVP, the 'Most Valuable Prick' for his team. Although he is great in what he does, he is not a team player and couldn't care less about the game that he loathe. He is only in the game because his alcoholic father force it on him and now this is the only thing he know how to do. When his management decided to step in control his image and force the voluntary job down his throat, Alex finally met the woman who changes his view in life.
Sutton is a social worker focusing on drug-abuse awareness and high risk youth. She had a similarly bad childhood as Alex with a drug addict father. But her past didn't dictate her future, she even rise above all challenges and turn out to be a remarkable woman and on her path to make a difference to the community. Let me just say Sutton is one of those most giving and understanding heroine ever.
All this while, Alex blamed his hang up and bad attitude entirely on his father treatment towards him as a child. Getting to know Sutton threw Alex on a loop. He loves her dedication and kindness, but he can't help that he felt an underlying resentment. Why did she turned out great despite everything, but he turned out to be someone full of hatred and misgiving?
"I don't want the bitterness I hold toward my past. I want to let it go."
This book turned out to have more depth than I expected it to be. A lot of things was actually out of my expectation:
I didn't expect Alex to be such a nice guy.
I didn't expect Alex dating Sutton almost the entire book. I love reading that couple actually date and what they did as a couple.
I didn't expect Alex questioned his love for Sutton. I thought he just need to look at her and feel the love right away.
"I feel like I'm on a tightrope sometimes, a balancing act that I'm constantly maintaining just so I can be with you."
As the title represent, this book is very much about Alex's character growth and his inner turmoil. His father shaped the man he is today and he is having such a hard time to break through the walls himself and make his own destiny.
I know everyone loves a good groveling scene and many did love the one took place towards the end. Is really sweet of him. But I'm not a big fan of these grand gesture, I always prefer something private and intimate. Nonetheless, is a great lovely ending and I'm amazed how much I love reading Alex.
"She showed me that life is about overcoming struggles and opening yourself up to possibilities."
Rating 4.5/5