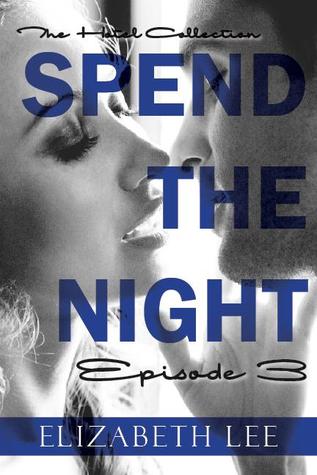 Spend the Night by Elizabeth Lee
Excerpt
The third and final episode of the Spend the Night Series. Books 1&2 are currently available.
All games must eventually come to an end…
Hannah's new reality is that someone is stalking her. Aggressively. The only question now is who. Fingers are pointed and accusations are made as every clue leads to her down another twisted path of questions without answers. Her feelings for both Carter and Trent cloud her judgment as the investigation delves deeper into her personal life and into her heart. Carter's past is a mystery and Trent has every reason to try and make her seem crazy. Her loss would be his gain after all.
Hannah will have to choose, but making the wrong choice will cost much more than a broken heart.
Everyone has a motive.
But only one of them has a plan.
Genre
Contemporary
Review
I can't fathom how much I adore this little mini series that had my heart palpating from the get go. Who knew so much can happened within a hotel alone. Yes, the whole series took place in the WC Hotel.
Sex, suspense, mystery and.... murder!
The players include:
Hannah
, heiress of WC Hotel, live her whole life working towards the COO position. She is adamant to find out her mysterious mask lover from the Gala night. Meanwhile, she was courted by the new residential hot chef, Carter and her first love, Trent is back in town. Add into the mix is a creepy stalker is out to get her. Holy goodness, this woman can't catch a break.
Trent
, is the other heir of the WC partnership. His sudden reappearance back into the hotel raise a lot of question. Why is he back? What is his ulterior motive beside wanted to also get the COO position. And his hot and cold treatment to Hannah is infuriating! What an asshole. I wanted to kidney-punched him numerous times. But I can't deny the fact that he is the hottest guy in the book. So I shall reserve judgement on him since he is being all secretive.
Carter
, the new residential hot chef. This nice guy is all gentlemanly and everything Hannah wish for. And what's even better is Hannah is quite sure he is her mystery mask lover with all his innuendo and hints. But is Carter really who he is? Sometimes things just seems too good to be true, eh.
Him
, the creepy stalker. His POV begin with lust and possessiveness and then turned into total creepy. What does he want with Hannah? And who the hell is he?!
I thought this book is some light reading until someone is dead and I was suddenly taking this drama seriously. Book 1 lay on some groundwork on the player and oh Trent really had my panty melting with his enigmatic presence. Then Book 2 started getting crazy with all these suspense and non-answer. I need to know what the fuck is going on. In Book 3 we finally get all the answer about Trent's reason for coming back, what is Carter's motive and who the hell is the creepy stalker.
By the way, when I got to the ending about a spin off with Detective Leasak, I was over the moon because he is coming back to have a stake out at the hotel! Woah! More shenanigans ensue in the same location. Woot woot!
Rating 4/5