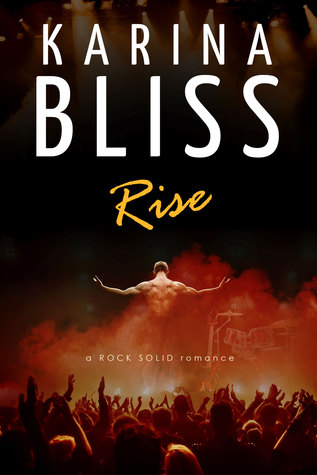 Rise by Karina Bliss
Excerpt
Acclaimed literary biographer Elizabeth Winston writes about long-dead heroes.
So bad-boy rock icon Zander Freedman couldn't possibly tempt her to write his memoir.
Except the man is a mass of fascinating contradictions–manipulative, honest, gifted, charismatic and morally ambiguous.
In short, everything she seeks in a biography subject.
When in her life will she get another chance to work with a living legend? But saying yes to one temptation soon leads to another.
Suddenly she's having heated fantasies about her subject, fantasies this blue-eyed devil is only too willing to stoke.
She thought self-control was in her DNA; after all, she grew up a minister's daughter.
She thought wrong.

Rock star Zander Freedman has been an outlier–many would say an outcast–for most of his life.
But there's no disaster he can't overcome, from the breakup of his band to the inevitable damage to his reputation.
His Resurrection Tour is shaping up to be his greatest triumph–if his golden voice holds out.
Contracting a respected biographer is simply about creating more buzz. Elizabeth's integrity is the key to consolidating his legacy as one of rock's greats.
All the damn woman has to do is write down what he tells her. Not force him to think.
Or encourage the good guy struggling to get out.
And certainly not make him fall in love for the first time in his life.
Turns out he is scared of something: being known.
Genre
Contemporary
Review
Have you ever came across a rock star romance that isn't filled with insta-lust, sex, booze, groupies, profanity and OTT drama? A hero that doesn't walk with a perpetual hard-on and a heroine who isn't always wet.
I think might just found the my favorite rock star in Rise.
Zander Freedman
, a vet rock star, who is pushing 40, trying to resurrect his band reputation while battling with his ailing health condition. With his tour and endless promo, he even decided to have a memoir written to capture his life work.
"When I was a choirboy I thought I'd be a priest, but it was less of a spiritual calling than imagining myself in the pulpit with a captive audience. Rock filled the same criteria and celibacy wasn't a requirement."
What make Zander such a different from other younger rock star is that he had
been there, done that
, he is no longer the stereotypical testosterone-fuel-sex-God-knocked-up-with-coke, which usually portrayed in such genre.
Elizabeth Winston
is a rare gem as well. A 36 year old, book-smart heroine, is not only intelligent, witty, rational and professional, she always had a warm and giving heart. She also had a healthy dose of cynicism in life that make her want to distance herself from Zander. She successfully avoided the cliche insta-lust with the rock star.
Against her better judgement, Elizabeth took up the job as Zander's biographer and through practically living together, she started to understand the complex man behind his rock God persona.
How many people do you need to love you?
A stadium feels about right.
Zander did a lot of things that he is ashamed of to be who he is today. He never think he is someone redeemable and giving up hope that he will one day deserve his own happiness. Resurrecting his band is the only thing he know and the only thing he is good at. But is the sacrifice worth it in the end?
"What kind of life do you see for yourself when all this is over?"
In a lot of ways, Rise reminds me of
Louder Than Love
by Jessica Topper due the hero age and the whole burnt out rock star angle. A hero who is trying to redeem not only his career, but his past mistake and to make him worthy for his loved ones. Although, this book is not all sexed up, the romance is sexy enough to keep me satiate.
The only complain I had with this book is the whole Stormy's POV. I guess Karina might be building up a character for her next book in the series, but those chapters seems to interfere with the pacing of the story and drew the focus away from the main couple. I find myself skimming those few chapters which I find rather irrelevant.
Anyway it doesn't affect my overall enjoyment of the story, when I read the last page, I had a same feelings whenever I read a book I adore, I don't want Zander and Elizabeth's story to end. Karina Bliss is definitely under my radar now.
How many people do you need to love you?
Just one. This one.
Rating 5/5