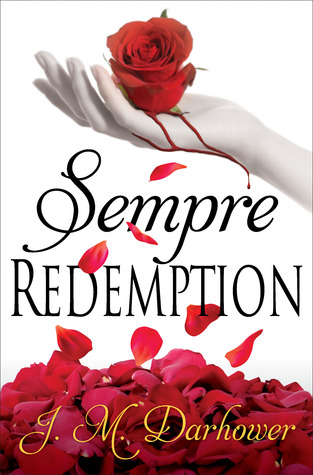 Sempre: Redemption
Excerpt
In this thrilling and sexy follow-up to Sempre, two young lovers struggle to keep their relationship intact after they become deeply enmeshed in the dangerous mafia-run crime ring they once tried to overthrow.

Haven Antonelli and Carmine DeMarco have been through a lot. Haven was taken in by Carmine's father, and with his family's help, she escaped a gruesome fate. However, saving Haven from the dark intentions of a mafia family cost Carmine a steep price: he was forced to swear loyalty to them.

Now, still passionately in love, Carmine and Haven must face the fall-out of Carmine's forced service, as Haven discovers terrifying secrets about the family that enslaved both her and her mother—and why she matters so much in this intricate web of lies.
Genre
Contemporary
Review
The sequel had much more dealings with the mafia, much to my liking. The MCs from Book 1, Carmine and Haven were separated for the majority of this book, due to Carmine's new responsibility that brought him to Chicago with his Uncle Corrado *insert fangirling squeal*. This might disappoint many, but definitely not me. For me, the highlight of the series had always been Corrado Moretti. Carmine and Haven's romance just seems too YA for my taste.
I thought Carmine would have grow more mature in Book 2, but I felt like he is the same old Carmine. He was being forced into the business, suffering from loneliness and his Uncle high expectation and then resorted to drinking and getting high. Most of the time, he just seems powerless and hopeless. Haven on the other hand is blossoming into a talented young lady who now studying arts in New York. She is missing the love of her life, hoping they will be reunited again.
Despite the blurb, I find that the star here is Corrado Moretti. He is the one who non-stop trying to keep everyone out of trouble, helping Haven settling on her new life (make sure no one stalking her), keeping Carmine from getting himself killed (in other life, Corrado can be a drill sergeant for all the lecturing he giving Carmine) and dealing with Vincent's fall out, while trying not to get locked up.
I would have happily give 5 stars just for all of Corrado's chapters, but due to me skimping most of Haven's chapters, I will have to resort to 4 stars for this sequel. I mean, while I was all anxious worrying whether Corrado will be incriminate, then we have to read about Haven's art lesson and her new friendships. Come on! I just felt like being put on commercial, while watching a suspenseful movie.
Still highly recommended for those who love mafia story and a certain hitman that we grow to love since Book 1.
p/s: I felt there is this loose end which is not tied up. Who the heck is that woman among the jury that Corrado wanted to find out? We never gotta know about it, even in
Made
.
Rating 4/5