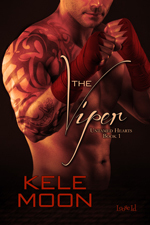 The Viper by Kele Moon
Excerpt
Marcos Rivera is a fighter. A gang member. Someone who has seen the dark side of humankind and survived. He has lost family and gained enemies. He has stolen cars and destroyed hearts, stripping one for money and the other for pleasure. His past is haunted and his future is bleak.
Until her.
Katie Foster is a high school history teacher. Smart, strong, and sexy. She is a woman Marcos shouldn't want. Shouldn't touch. Shouldn't love. He met her in Garnet, a backwards, hick town that's the last place in the world he wants to be, but he finds himself going back for a taste of the forbidden.
Katie represents all that is good in the world, and Marcos knows he's nothing but trouble for her perfect life. He fights and he screws. He commits crimes and he breaks the rules. He will never change and he will never escape his gang lifestyle.
Or can he?
What happens when two different people from two very different walks of life risk it all by giving into the passion that threatens to consume both of them? Can a woman who only knows how to play it safe give her heart to a man who lives hard and loves harder?
Will she survive The Viper?
Genre
Contemporary
Review
This Untamed Hearts series is a spin off from Kele Moon's original Battered Hearts series. Even though The Viper can be read as a standalone, the subsequent heroes, Chuita, Tino and Nova were introduced in the previous series and had me anticipating their story since forever.
When I finished The Viper, I can see why Kele change it into a spin off instead of a continuation of Battered Heart. The first thing I noticed is Marcos, the hero of the story felt so much younger than previous heroes. Even though he is 26, there is still a certain NA feel to this story.
Marcos came to Garnet to visit his cousin, Chuito who is a fighter in the Cellar. Marcos was hoping to get a fighter spot as well, but luck was not on his side or maybe he was just not motivated enough. He even got involved in an accident that resulting in an overturn car.
Katie is a recently divorced teacher. The night she met an accident is also the night she met a man who make her felt reckless for once. After the incident, Marcos went back to Miami and Katie can't help but keep wanting hunt down the man. She kept pestering Chuito to no avail and resorted to posting in Craiglist. Desperate much? LoL.
"I can't stop thinking that maybe two negatives might equal a positive. That together, even something as terrible as a car accident can be beautiful."
~ Katie
When Marcos found out that the beautiful gringa, Katie was looking for him, he decided to head back to Garnet to give her a piece of his mind. He is a thug, who is not deserving of her affection. She should definitely steer clear away from the likes of him.
I felt bad for Marcos who was dealt such hardship in life. He keep feeling as if he was destined to either die young or end up in jail. Despite his self loathing though, Katie love him for who he is and didn't even flinch when he talk about his past and the things that he had done.
To be honest, due to my expectation from reading
Star Crossed
and
Crossing the Line
, I felt the romance between Marcos and Katie isn't as epic as its predecessor, but I do enjoyed the overall story. Especially the inclusion great supporting characters. Despite the cultural differences face by Marcos and Katie, their romance felt too easy. If you have read Romeo & Jules and Wyatt and Tabitha, you will knew how difficult it was for them to have their HEA. Bullets flying, life threaten, years of separation...
The best part of the book is the relationship between Marcos and Chuito. We learned more about Chuito's past and what length will he go to save his cousin from a certain predicament.
It was also such a great set up for Chuito's story with Alaine, the preacher's daughter. Hmm... I was wondering what are they doing in the room together in the middle of the night if he isn't sleeping with her.
Not to forget the appearance of Nova Moretti. Cue fangirling. He is always there to save the day. I read somewhere that Kele will have to complete this series in a year. So I guess Nova's book won't be a long wait.
"He's Angel on steroids."
Although this can work as a standalone, Battered Hearts is a series that should not be miss. I still rate it my favorite MMA series so far.
Rating 4/5