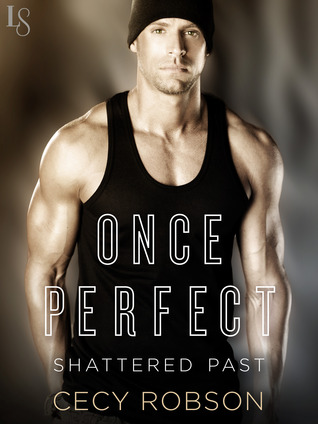 Once Perfect by Cecy Robson
Excerpt
His life was never easy. Hers wasn't supposed to be this hard. They come from different worlds, but fate lures them together in a way neither expected in Cecy Robson's raw, steamy New Adult debut—perfect for fans of Monica Murphy and J. Lynn.
Evelyn Preston's future once looked perfect—until her wealthy father was caught in an embezzlement scandal and took his own life. Alone and struggling to pay her college tuition and bills, Evelyn finds a job as a waitress at the ultra-hip nightclub Excess, where she used to have more in common with the privileged private-school clientele than her fellow staff members. But something attracts her to the sexy six-foot-four bouncer and underground MMA fighter Mateo Tres Santos. Although they've led different lives, their troubled pasts bonds them in both survival and love.
Mateo is ex-army who wound up in prison for assaulting the man who harmed his sister. Now he's feeling the same protective impulse for this petite blond waitress. When Evelyn experiences a panic attack at the club, Mateo comes to her rescue. And when Mateo is wounded shielding her from a brawl, Evelyn returns the favor and comes to his aid.
As their attraction intensifies, Mateo is determined to find out what nightmares are lurking in Evelyn's past—even if that means tackling his own to save her.
Genre
Contemporary
Review
This book has it all. It is romantic, touching, a little heart breaking and came with a mild dose of suspense that keep me wondering what will Cecy Robson reveal next? It also touch on the challenges for our interracial couple who not only different in color, but family background as well.
Instead of the usual, whereby author build up the characters background from the beginning, in Once Perfect, we slowly learn of their past through the pages little by little.
Evelyn came from a privileged background, now she is paying for her nursing school and working as a waitress at the Excess, a hip nightclub. She is a long way from where she came from and is determine to live her own life. She was plaque by nightmares and haunted memories that she had no idea where it stem from. It made her unable to trust and wary of people around her in general. Her only best friend is Lourdes, her roommate.
Mateo is the club bouncer and also the lead security. He is an ex-convict, dangerous and lethal. Being a Cuban and an underground fighter are just extra icing on the top for a white girl like Evelyn to steer clear from him.
Until one day when Mateo helped Evelyn when she was having a rare panic attack in the storeroom that she starts to see him in a different light. Maybe she shouldn't stereotype the scary guy as if she expect him to be working for the mobster.
The more Evelyn spend time with Mateo, the more she begin to see the gentle man behind his tough exterior and his unconditional love for his family. However, no matter how much she trust Mateo with all her heart, something invisible is holding her back from fully giving herself to him. I keep wondering what happen to her last and only relationship that make her that way she is. The idea of intimacy makes her sweat, nervous and panic. What is wrong with her?
When Evelyn's past and Mateo's future finally caught up with them, will their relationship remain strong against the odds?
Evelyn is going to be a nurse, while Mateo is an ex-con with his fist, getting pummel to earn some quick cash. He felt selfish and awful for thinking he can have a future with his girl. It makes me sad to see him thinking he didn't deserve a better future and see beyond the bad cards handed to him.
Once Perfect makes us rooting for Evelyn and Mateo, the underdogs in today's society. They may not have the privileged nor the education. Their past may be tainted and imperfect, but their future is limitless and can be so much more, as long as they believe.
Rating 4/5