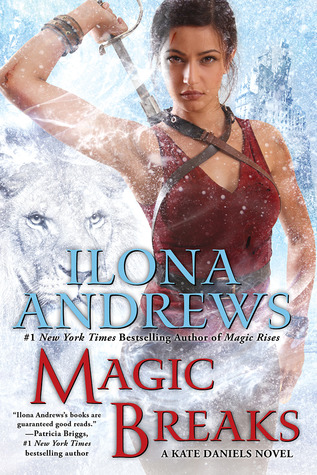 Magic Breaks by Ilona Andrews
Excerpt
No matter how much the paranormal politics of Atlanta change, one thing always remains the same: if there's trouble, Kate Daniels will be in the middle of it…
As the mate of the Beast Lord, Curran, former mercenary Kate Daniels has more responsibilities than it seems possible to juggle. Not only is she still struggling to keep her investigative business afloat, she must now deal with the affairs of the pack, including preparing her people for attack from Roland, a cruel ancient being with god-like powers. Since Kate's connection to Roland has come out into the open, no one is safe—especially those closest to Kate.
As Roland's long shadow looms ever nearer, Kate is called to attend the Conclave, a gathering of the leaders from the various supernatural factions in Atlanta. When one of the Masters of the Dead is found murdered there, apparently at the hands of a shapeshifter, Kate is given only twenty-four hours to hunt down the killer. And this time, if she fails, she'll find herself embroiled in a war which could destroy everything she holds dear…
Genre
Urban Fantasy
Review
A Kate Daniels book never fail to impress me with its kickass magic and battle scene. The series is one of my favorite urban fantasy out there. I used to ship for Kate/Curran like mad, stalking every forum out there just to gush about them. I'm crazy, I know.
Now, years later, waiting and reading a new Kate Daniels installment felt like going home for Thanksgiving dinner. It happen once a year. Is a tad predictable. Is a routine chore. Despite all this, it left me feeling warm and comforted once I finished it.
For those who are new, I assure you I still think this series had one of the best build up romance out there. I totally soaking up every conversation and interaction between Kate and Curran from Book 1 (their first meeting) up to Book 5 (when Kate became the Consort).
Magic Breaks still has everything that an urban fantasy fans love. Kate is still sarcastic as ever, her magic is getting stronger and weirder, the adrenaline fueled fighting scene was kickass and violent. What's better is that we have more Jim and Ghastek time. They are my favorite supporting characters and I love their bickering and camaraderie with Kate.
As for the romance part, Kate and Curran pretty much felt like an old married couple now, despite them not being legally married yet. Considering this is book shelves under urban fantasy and not romance, maybe I should have predicted this would happen. It happened to me when I was reading Mercy Thompson. There was only one sex scene here, which hardly satisfy my appetite. I remember once reading somewhere, that the UF readers felt scandalized when the book veered towards dirty/unclean. How I wish that there is a dirtier version of Kate Daniels. I wish we have dirty shapeshifter sex. I wish Curran turned into his werelion formed and pounce on Kate.
Curran had half a book of page time, but the impact isn't that big. But, thank God this time they have a much better understanding and decided to face the battle together. I miss them kicking ass together, as oppose to only Kate did all the magic voodoo stuff and Curran staying back.
About the super villain, Roland, who we have been hearing his name since Book 1, he finally deemed us worthy to let us have a glimpse of his highness. I'm loving this little twist we have about him and the direction that the author took us by the end of the book. I can see the potential for a fresh plot to keep things interesting in the next installment.
Let's the wait begin again.
Rating 4/5