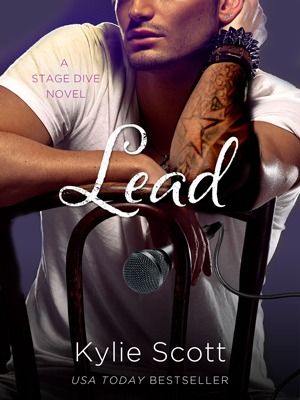 Lead by Kylie Scott
Excerpt
As the lead singer of Stage Dive, Jimmy is used to getting whatever he wants, whenever he wants it, whether it's booze, drugs, or women. However, when a PR disaster serves as a wake-up call about his life and lands him in rehab, he finds himself with Lena, a new assistant to keep him out of trouble.  
Lena's not willing to take any crap from the sexy rocker and is determined to keep their relationship completely professional, despite their sizzling chemistry. But when Jimmy pushes her too far and Lena leaves, he realizes that he may just have lost the best thing that ever happened to him.
Genre
Contemporary
Review
Jimmy Ferris is the lead singer in Stage Dive and a recovering addict. Apparently, he is totally clueless and inept in regards to relationship. He don't play kissing and thought that every problem can be solve by money. Well, he finally learn a great lesson from Lena.
Lena was hired to be Jimmy's sobriety companion cum assistant. Most of the time, her boss is a moody prick and a social hermit. She had to spend time putting up with him 24/7. Lesser human would have bail long time ago. But Lena is made of tougher stuff.
"I think I'm going to start charging you extra for lies. Someone needs to pay for the stain on my soul."
Their interaction comprises of Jimmy ordering her and Lena reluctantly obey, meanwhile plotting to stab his back. Literally. However, things changes when Jimmy starts revealing his vulnerable side and a less than pleasant childhood time to Lena. I mean, the girl is now totally powerless towards the greatness of Jimmy Ferris. She developed a whole big crush on her boss, which is bound to be doom.
He was my Romeo in black jeans and this story had just as much a chance of dying a tragic death as the original.
I never thought I would have enjoyed Lena mooning over Jimmy all that much. Her unrequited love in the entire book make me sympathize for her. I like that she is crazy for Jimmy, the moody jerk and not Jimmy Ferris, the rockstar. I love her funny and sassy POV. There is something so genuine about Lena that me rate her as the best heroine so far in this series.
"I have my time dated a cheater, a thief, a repressed homosexual, a foot fetishist, and various men who just wanted a chance to meet my sister."
The little twist in this unrequited love story made it more appealing and different. Lena is a very blunt person and she confessed. Jimmy gave me the funniest reaction ever. He tried to convince her that she is making a mistake and he vowed to make her realize it. He came out with all sorts of idea for her, which are worthy for an eye roll and some inner chuckling.
"Day one of your intensive desensitization-to-me program is about to begin."
Jimmy is the classic lovable asshole. The one who make you love and hate at the same time. There were times when he show so much vulnerability, deemed himself unworthy and being all very considerate with Lena that make I want to hug him, kiss him and smothering him with love. Then there were times he turned into the asshole of the century, I wanted to pummel him, kidney-punched him and castrate him with a rusty blunt knife. This guy drove me in-fucking-sane.
"No one's even supposed to do missionary these days. It's considered boring."
"You're right, I know. I'm way out-of-date in my sexual repertoire and you're being very kind to indulge me."
I would have love this book even more if we get more page time to see Jimmy and Lena as a couple. Majority of the book revolving around Lena and Jimmy's bickering with each other. Although I enjoy it, it would be much better if it was cut short and let their relationship developed more towards the end. The last 70% was awesome and I am sad it ended now. I wanted to see how they are as a functional couple. I love seeing how far Jimmy had come and will he be able to stay on track and not turn into an asshole again. I shall catch up with them in the next book.
"The truth is, I'm all about you, Lena. You're my best friend. You're my girl."
Rating 4/5