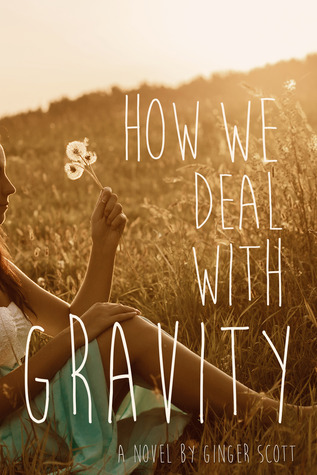 How We Deal with Gravity by Ginger Scott
Excerpt
When her son Max was diagnosed with autism, Avery Abbot's life changed forever. Her husband left, and her own dreams became a distant fantasy—always second to fighting never-ending battles to make sure Max was given opportunity, love and respect. Finding someone to fight along her side wasn't even on her list, and she'd come to terms with the fact that she could never be her own priority again.
But a familiar face walking into her life in the form of 25-year-old Mason Street had Avery's heart waging a war within. Mason was a failure. When he left his hometown five years ago, he was never coming back—it was only a matter of time before his records hit the billboard charts. Women, booze and rock-n-roll—that was it for him. But it seemed fate had a different plan in mind, and with a dropped record contract, little money and nowhere to go, Mason turned to the only family that ever made him feel home—the Abbots.
Avery loved Mason silently for years—until he broke her heart…completely. But time and life have a funny way of changing people, and sometimes second chances are there for a reason. Could this one save them both?
Genre
Contemporary
Review
4.5 'heartwarming' stars
I have a soft spot for small town romance. It comes without the glitz or anything over the top, yet it warms my heart and left me feeling really good by the end of the book. This story did remind me a little of Jessica Topper's Louder Than Love. The whole single mum meet washed up musician.
This story took place at Cave Creek and it revolves about the Abbot family who runs the local bar, Dusty. Ray Abbot is the owner of the bar and Avery Abbot, his daughter is a single mum with an autistic son, Max.
Avery is a heroine who had a huge burden on her with caring for her special boy. She wanted to be strong and sometimes she did, but she also showed her weakness when she crumble and cries. She is a woman desperately in need of a shoulder to lean on.
Mason Street is a washed up musician who failed to make it big in the city and came back to his hometown to 'figure things out'. Due to his reluctance to meet his mum, he decided to bunk in with his old mentor, Ray Abbot. Then he meet the all grown-up, Avery, the girl he used to tease and her son, Max.
Avery used to have a crush on Mason when they are young. But he was too wild and too distracted with his life to notice her. Now that Mason is back in town, all the old feelings are coming back with a vengeance. At the same time, she was pissed about his presence that disrupt her peaceful life. She dare not hope that he had changed in any way, she was pretty sure he is still the egoistic and playboy musician.
Gravity. That's what I'm feeling right now. I can't hear the crowd. I'm completely locked to Mason, his eyes squared to mine, and he's the only thing I see.
Mason started out as a douchebag and a loser. He had lost his life direction and hanging out at Dusty seems like not a bad idea for now. I don't get why all of a sudden he is interested in Avery. Maybe is just is and the timing is right this time? Fate, I suppose? After he learned that Avery used to like him, he was determine to win back her affection.
"If I could do it again... I would definitely kiss the girl in the closet."
When Mason starts to transform into this great guy who is on the path to redeem himself, I practically swoon all over. His POV came with a tinge of humor that had me smiling every time. He is always worried that he will messed things up. There were a lot of swoon-worthy moment all over the story. Like how he bonded with Max and his heartfelt confession to Avery. Some might say cliche, but I say romantic. So it depends on each individual.
"I was so focused on success, I forgot about the ride. And I missed some pretty great things along the way."
I miss reading the awkward dance between two people in the beginning of a relationship in romance nowadays. This couple have it in spade and I find kind of sweet.
Mason had a weird relationship with his mom. They aren't exactly chummy, but you just knew they love each other. The scene when he dance with his mum in the kitchen. I went 'Aww......'
I knew Mason can't just hang out and doing gigs at Dusty forever. So when the time comes that Mason had to choose between his career and staying back at Cave Creek, it might just be the biggest decision in his life. Will his relationship with Avery strong enough to withstand what life brings on?
"We're dreamers. And that's... that's a good thing. But sometimes you need to remember about the important things here on the ground. Not just all that tempting stuff that's up in the clouds."
Rating 4.5/5