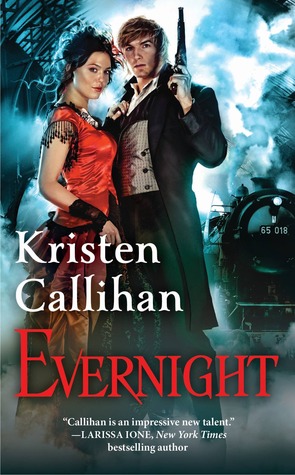 Evernight by Kristen Callihan
Excerpt
Once the night comes . . .
Will Thorne is living a nightmare, his sanity slowly being drained away by a force he can't control. His talents have made him the perfect assassin for hire. But as he loses his grip on reality, there is no calming him—until he finds his next target: the mysterious Holly Evernight.
Love must cast aside the shadows . . .
Holly cannot fathom who would put a contract on her life, yet the moment she touches Will, the connection between them is elemental, undeniable—and she's the only one who can tame his bouts of madness. But other assassins are coming for Holly. Will must transform from killer to protector and find the man who wants Holly dead . . . or his only chance for redemption will be lost.
Genre
Steampunk
Review
I'm reading this one and judging it as a standalone, considering I only read Book 1 Firelight (because of the Beauty and the Beast theme) two years ago and didn't manage to catch up with the subsequent books.
First and foremost, I need a little time to get used to the world building, the 17th century of London filled with demons, faes, elemental. There is a touch of steampunk-ish in the world with our heroine being the genius inventor.
Holly Evernight is an inventor and the person behind William Thorne's clockwork heart. A year ago, she was forced to put the clockwork heart into his demon body, which resulting in him turning platinum over time and losing his sanity. Now Holly had been hiding in her resident for a year, worrying her safety once she step foot outside. Apparently, someone wanted her dead.
William Thorne is a demon and a shadow walker. He longed to search for the woman who was responsible for his demise. He wanted to kill Holly Evernight for putting him through hell. His body is no longer his, he is in constant pain and sometimes he is not even sane.
When this two supposed sworn enemies met face to face, William was shocked to find out how easily Holly can control his platinum body using her elemental power. She can also ease his pain and reverse his body back to flesh if she wanted to help him. They both strike up a deal with William providing her with protection from assassins, while Holly will find a cure for him, while easing his pain in the meantime.
Holly is the brainiac heroine who is always poise regardless of the circumstances. While, William is the carefree blood sucking devil who make it his personal mission to annoy the hell out of Holly and tip her routine off-kilter. The fact that he had to remain in close quarter with her due to his condition make it all the more interesting. They had a lot of fun witty banter going on within the household. By the way, why is the guy in the cover had brown hair? Will is suppose to have shoulder length white hair.
There are a lot of things going on in this book. We have Holly and William's predicament, someone wants to either capture or kill Holly, the powerful Adam holding Eliza May as prisoner and an evil fae who is manipulating them all. There are a multiple POVs, but I feel that Adam's POV is just a tease to build up for his story with Eliza May next. So I find myself mostly skimming his part and concentrating on Will and Holly's. There are some cameo's from previous characters, but I don't find myself missing that much even though I didn't know them that well.
I like the fast pacing of the plot that resulting in me finishing this in just one day. Things just keep happening and I just want to know what's next. The climax and little twist towards the end make me worried for our couple's demise. Of course, things will work out find for them, although it seems so hopeless and impossible. Overall, I'm liking this steampunk romance very much and I plan to catch up with the previous missed installments.
Rating 4/5