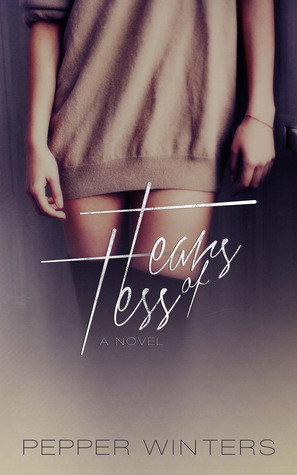 Tears of Tess by Pepper Winters
Excerpt
"My life was complete. Happy, content, everything neat and perfect.
Then it all changed.
I was sold."
Tess Snow has everything she ever wanted: one more semester before a career in property development, a loving boyfriend, and a future dazzling bright with possibility.
For their two year anniversary, Brax surprises Tess with a romantic trip to Mexico. Sandy beaches, delicious cocktails, and soul-connecting sex set the mood for a wonderful holiday. With a full heart, and looking forward to a passion filled week, Tess is on top of the world.
But lusty paradise is shattered.
Kidnapped. Drugged. Stolen. Tess is forced into a world full of darkness and terror.
Captive and alone with no savior, no lover, no faith, no future, Tess evolves from terrified girl to fierce fighter. But no matter her strength, it can't save her from the horror of being sold.
Can Brax find Tess before she's broken and ruined, or will Tess's new owner change her life forever?
Genre
Erotica
Review
I've finished yet another kinky billionaire book. Initially I was not interested in starting Tears of Tess, but the subsequent books in the series with their overwhelming reviews make me caved. Before going in, I had a preconception that is gonna be something like Captive in the Dark, the heroine being held captive by a sadistic master. However, that really isn't the case...
Tears of Tess held my interested from the get go. Tess, the heroine who was interested to explore her sexuality with something kinky had a very vanilla boyfriend, Brax. Oh, they love each other, but Tess can't help feeling unsatisfied. The way she tried to jump his bone was hilarious.
"I wanted a new label. One that said: girlfriend who will do anything to be tied, spanked, and fucked all over rather than adored."
When they went for a trip to Mexico, the nightmare begins and Tess might just regret what she had been fantasizing all along.
She was captured. She was tortured. She was sold.
Tess ended up at the hands of her new master, a French billionaire named Quincy Mercer. She can finally live out her fantasy, but reality can be such a bitch. Will Tess survive it and gain freedom?
"Two things I wanted most in the world: for Q to die a miserable death, and for him to fuck me."
Q was indeed a really interesting anti-hero. Told entirely from Tess's POV, he was quite an enigma. I don't know what is going through his mind with his stoic persona. Is he the villain or the good guy? I very much enjoyed seeing his truth colors being revealed bits by bits. With him being French, definitely add up to his sexiness.
"Je suis a toi, je suis votre esclave."
When I finally learned about his true motive, I'm in awe with him. He was such a walking contradiction for being who he is, a man who was constantly fighting his own inner beast. There is so much more about Q that I can't label him as just another rich hero with a sadistic streak.
The passion between Tess and Q was intense and overwhelming. I've read Pepper Winter's Destroyed and knew she had a knack of writing some OTT intensity, but it very much match the theme of the book.
To me, Tears of Tess is like an intro to BDSM, with Tess finally exposed to what she crave and Q freeing himself to indulge in his passion. Their love might be wrong and unconventional, but this is their love story.
"Q was no longer the devil.
He was my master and I belonged to him."
By the way, those songs that were played by Q. How I wish there were really such songs that capture all those his emotions and struggles. I would gladly listen to them over and over again.
"My freedom is in your captivity, Q. I fly when I'm with you."
Rating 4/5