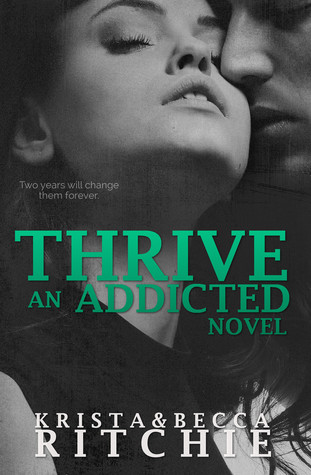 Thrive by Krista Ritchie
Excerpt
Two years will change them forever.
When rumors spread like wildfire—like having three-ways with her boyfriend's rock climbing brother—Lily Calloway spirals into a dark place. Her bedroom. Loren Hale is more confident and determined to keep their sex life private, even from their friends, and he helps Lily in the only way he knows how. But how much love is
too
much?
Their lives are filmed, watched, and criticized. And through it all, Lily and Loren have to face enemies they never thought they'd see, demons they don't know if they should bury, and setbacks they didn't think they'd meet. Not this soon.
And one rumor could be too much for them to handle. It will test their greatest limitations, and if they don't hold onto each other, someone is going to drown.
A full-length New Adult Romance that bridges the gap between the second and third books.
Thrive must be read before Addicted After All if you have not read the Calloway Sisters spin-off series.
Genre
Contemporary
Review
Considering the plot for this book took place during Kiss the Sky and Hothouse Flower, there isn't much surprises for me. The only difference is that this time around it came from Lily and Loren's POV. Nonetheless it felt like catching up with old friends. I enjoy it :D
I wonder do those who skip the spin off actually can grasp this novella? Because I felt like I'm reading some selected scenes and there were whole lots of time jumping.
My favorite scene was during their visit to the Comic Con with the gang, I believe it was not present in the previous books.
The Batman and Catwoman flirt-fighting was all around awesome. Connor and Rose is my favorite couple and I always love watching their back-and-forth nerd wars, regardless of whose POV it came from.
"We are no longer welcome at the particular hotel... for eternity. Those were the manager's exact words. I don't blame him for thinking we're immortal. In some preclassic civilizations, I'd be considered a god."
~ Connor, the brainiac.
"I'm not a fucking sex addict. I know you wish I was, so I could join in your little sex addicts not-anonymous club, but it's not happening."
~ Ryke, the trash talker.
"We're in Earth-616, love. We're going to have our happy ending. It just may take us awhile to get there."
~ Lo, the comic geek.
Rating 4/5