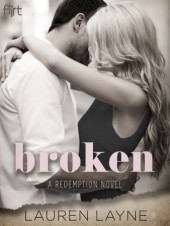 Broken by Lauren Layne
Excerpt
Lauren Layne's New Adult novel tells the story of a girl with secrets, a guy with scars, and a love that could save them both... or destroy them.
When Olivia Middleton abandons the glamour of Park Avenue for a remote, coastal town in Maine, everyone assumes she's being the kind do-gooder she's always been. But Olivia has a secret: helping an injured war veteran reenter society isn't about charity—it's about penance. Only, Olivia's client isn't the grateful elderly man she's expecting. Instead, he's a brooding twenty-four-year-old who has no intention of being Olivia's path to redemption . . . and whose smoldering gaze and forbidden touch might be her undoing.
Paul Langdon doesn't need a mirror to show him he's no longer the hotshot quarterback he was before the war. He knows he's ugly—inside and out. He'll do anything to stay in self-imposed exile, even accept his father's ultimatum that Paul tolerate the newest caretaker for three months or lose his inheritance. But Paul doesn't count on the beautiful twenty-two-year-old who makes him long for things that he can never have. And the more she slips past his defenses, the more keeping his distance is impossible.
Now Paul and Olivia have to decide: Will they help each other heal? Or are they forever broken?
Genre
Contemporary
Review
A sexy new adult read of a recluse war vet and his new caretaker who came to mess up his life.
Come meet the recluse Beast/asshole extraordinaire/Mr. Grumpy Oldman, who is non-other-than Paul Langdon. Dear Paul is 24 year old war veteran who busted up his left leg and had scars on his left face. He decided to live as a recluse at his father's mansion at Maine and stay away from humanity while he mourn for the life he could be having. The silver lining is he felt sorry for his dead best friend, Alex and currently providing for Alex's family. Or else, I would be more than glad to kidney-punched him and strangle him, despite him being a handicap.
After running off countless of caretakers, his father decided to hire Olivia Middleton, a 22 year old, New York socialite who had a sudden interest in philanthropy. Paul is warn that if he can't keep Olivia for three months, his father will kick him out of the house. Paul decided to play nice, but he never expect Olivia to be so young and not a middle age frumpy nurse. A normal guy would be elated, but for Paul, he is mad that Olivia remind him of a life he could never have.
Olivia didn't know what she is signing up for. But she knew she had to leave New York and away from a relationship disaster that she had caused. If being a caretaker for a war vet is what is takes, she will endure it. But one look at Paul, she is a goner. Okay, the man is a total asshole, but he is hot.
Honestly, I felt it a bit tactless for Olivia to be drooling over Paul after the first meeting. Hmm... Anyway, they have this weird relationship of pissing off each other. Paul behaves as aforementioned, while Olivia kept pushing his buttons and annoyed him to no end. But what she did manage to spark up Paul's mundane lifestyle and force him back into the living.
I don't feel this book is overall emotional despite it touch on some war experience on Paul's part. Only when Paul finally recount his experience during his tour, did I felt like shedding some tears. Apart from that they both had a rather antagonistic relationship with tons of bickering going on like any normal young adult.
The ending is pretty well done, but a bit too abrupt for my taste. I would have appreciate if we can see how well Paul is adapting to his new lifestyle with Olivia. Both of them had grown so much since they first met. Olivia is no longer the self entitled rich girl who had no direction in life, and Paul is no longer the insecure recluse who was wasting off his life.
Rating 4/5