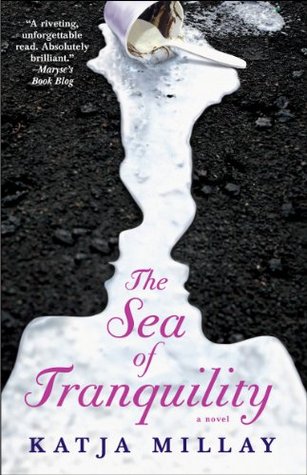 The Sea of Tranquility by Katja Millay
Excerpt
I live in a world without magic or miracles. A place where there are no clairvoyants or shapeshifters, no angels or superhuman boys to save you. A place where people die and music disintegrates and things suck. I am pressed so hard against the earth by the weight of reality that some days I wonder how I am still able to lift my feet to walk.
Former piano prodigy Nastya Kashnikov wants two things: to get through high school without anyone learning about her past and to make the boy who took everything from her—her identity, her spirit, her will to live—pay.
Josh Bennett's story is no secret: every person he loves has been taken from his life until, at seventeen years old, there is no one left. Now all he wants is be left alone and people allow it because when your name is synonymous with death, everyone tends to give you your space.
Everyone except Nastya, the mysterious new girl at school who starts showing up and won't go away until she's insinuated herself into every aspect of his life. But the more he gets to know her, the more of an enigma she becomes. As their relationship intensifies and the unanswered questions begin to pile up, he starts to wonder if he will ever learn the secrets she's been hiding—or if he even wants to.
The Sea of Tranquility
is a rich, intense, and brilliantly imagined story about a lonely boy, an emotionally fragile girl, and the miracle of second chances.
Genre
Contemporary
Review
"If we had a telescope, I would show you the Sea of Tranquility."
The Sea of Tranquility is a YA story with a heavy melancholy and mystery from the beginning itself. The pacing of the book was rather slow, but due to the hint of mystery surrounding the characters, I can't help but kept flipping the pages to discover more revelation at every chapters. Is like we are trying to peel the onion layer by layer until we get to see what's in the middle of it all.
We have two anti-socialite as our main characters, Nastya and Josh Bennett. Nastya suffered a violent trauma three years ago, resulting in her no longer playing the piano, stopped talking to everyone and hiding her soul from people who loved her. She decided to leave the town she grew up to live with her Aunt Margot and enroll in a school where nobody will know her. There is where she met Josh Bennett.
Josh Bennett is a teenage boy who had lost everyone dear to him. Drew is his only friend and woodwork is his only passion. Everyone at school left him alone and he had this brooding and stoic demeanor. The new girl who dressed up in all black and basically look like a whore didn't fazed him much, until one night she stumble upon the neighborhood during her run and ended up in front of his garage.
She reminds me of a ghost and how at any moment she might just fade away.
Despite Nastya non-talking and general reclusiveness, she didn't have problem garnering unwanted attention in school, especially from Drew, the manwhore friend and Clay, the artist geek. They were both sure great friends that didn't felt compelled to stay away from the sight of her freakishness.
Drew and Clay are both friends she wanted to interact with even though she never talk to them, but having their one sided conversation is better than none. Josh is someone she wanted to avoid, even though she can't help but stare at him sometimes.
"I wondered if you were surrounded by some sort of force field. I kind of wanted to get one for myself. You can hide in plain sight."
During her daily run, she just felt an invisible pull that direct her to his garage every night. They had enjoyed an companionable silence, until one night she finally spoke to him for the first time.
We're like mysteries to one another. Maybe if I can solve him and he can solve me, we can explain each other. Maybe that's what I need. Someone to explain me.
Witnessing their progression from the wariness and non-talking towards communicating and settling on their domestic bliss together was such a great thing to watch. I love their relationship that came so naturally without any expectation from each other. But is the thing that they don't talk about and the secret that Nastya hide that might just ruin them.
I'm very much intrigued by this YA romance because it felt different from others. There is not much flower and roses moment that make me gushing or swoon. Yeah, if you are looking for a love feast romance, this is not it. Instead there is a handful of touching and heartfelt moments and then there are heartbreaking and regrets. It was all kind of sad to see these two people who are meant to be together, but didn't know how to do it. I blame their age and their innocence. They have so much to deal with at such a young age.
"She realizes everything she took for granted and didn't see right in front of her while she was alive. She's begging for another chance to live again so she can appreciate it this time."
This is one of the book that I will remember and really differ itself from every other book that I've read so far. It touched me in a profound way, though there are moments that I felt is hard to go through, especially Nastya inability to open up to anyone. I think I always fantasize that the hero is going to save the day and he is enough to make everything okay. But I guess, reality is very much different. Sometimes, you need to save yourself.
I very much love the last words on the book. I smiled when I saw it and everything make so much sense even if it not suppose to. I think people really didn't need to bother to go peek at the end because you need to finish the book itself to get the meaning behind it.
And if my Sea of Tranquility were real, it would be this place, here, with him.
Rating 5/5