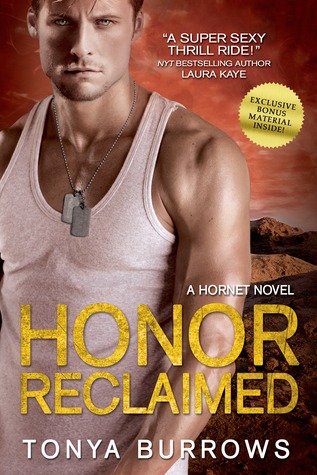 Honor Reclaimed by Tonya Burrows
Excerpt
Former Marine sniper Seth Harlan is determined to prove that he can still do his job despite his ongoing battle with PTSD. When an old friend contacts HORNET to rescue a black ops soldier, Seth's stability is strained. He knows all too well what it's like to rot inside an enemy camp, praying for rescue and waiting for death. And he's not about to leave a man behind.
Photojournalist Phoebe Leighton just stumbled into the middle of an arms deal. Teaming up with a ragtag team of mercenaries is the last thing she wants to do--especially when she realizes Seth Harlan is assigned to the mission. He may ignite a passion in her she thought long dead, but Phoebe's hiding a secret that could destroy him.
With a bomb in the mix, HORNET's mission is suddenly about a lot more than an abandoned soldier. Racing against the clock, Seth, Phoebe, and the rest of the team struggle to stop a ruthless warlord bent on power, revenge...and death.
Genre
Suspense
Review
In Book 2 of HORNET, we have the Seth Harlan, the ex-marine sniper who is severely scarred and suffered from PTSD and Phoebe Anderson, the photojournalist heroine who wrote a nasty piece for the tabloid to tarnish Seth's reputation.
Despite all odds against him, Seth was accepted into the HORNET team and under probation. Well, everyone is not reception of him, worried that he might blow up at any second. Gabe was not really buying the idea either, but Quinn was insisting Seth needs a chance to prove himself. This time they got a mission to rescue a missing sergeant in Afghanistan, a place where Seth endured fifteen months of living hell.
Phoebe had since left the tabloid and working as a freelance photojournalist after she felt remorse for ruining a man's life. She's currently in Afghanistan working on her piece about child bride where she came across Seth Harlan.
At the first sight, Phoebe felt compel to step up and apologize to him, but what goods does that bring? Nevertheless, she felt drawn to this man who was so alone and suffering in silence.
I prefer the romance this time compare to Book 1 because it is more slow burn and happened gradually. Seth was an emotionally and physically scarred hero who didn't think that he will ever find love again. The flashback to his capture days were limited, but enough to give me a nasty idea of what happened to him. Now seeing him all alone, fighting his paranoia and getting so much shit from his team just break me heart. I find Phoebe to be the perfect heroine who not only stood up for him and also help him to crawl out from his shell and realize that his future is not as bleak as he think it is.
I still face a similar problem as with the previous book is that I don't feel invested with their mission. The side plot with Quinn issue is rather distracting too. I felt that there were too many different POVs that distract from the main thing.
Seriously, I read the rest of the team for Jean-Luc. That guy was a riot.
"See, that's what's wrong with the world today. Everyone's so... repressed. Politically, religiously, emotionally, sexually."

"You ever see a horror movie? The pretty one always dies first when they split up and I'm too young to bite it."
And then there is this one scene where I kept playing out in my head.
Quinn about-faced so fast on his toes, he put ballerinas to shame.
I think the cantankerous Ian Reinhardt is growing on me too. Can't wait to read about his side of the story.
Rating 4/5