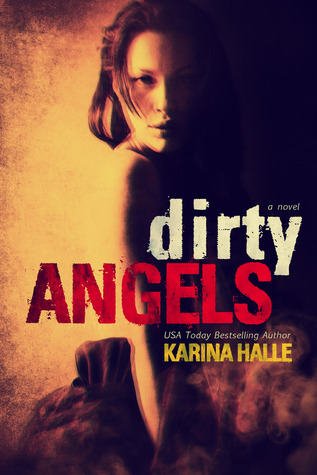 Dirty Angels by Karina Halle
Excerpt
For Luisa Chavez, a twenty-three year old former beauty queen, a better life has always been just out of her reach. Sure, she's had men at her feet since she was a young teenager but she's never had the one thing she's craved – security. Having grown up in near poverty, her waitressing job in Cabo San Lucas can barely let her take care of herself, let alone her ailing parents. Every day is another unwanted advance, every day is a struggle to survive.
When Salvador Reyes, the depraved leader of a major Mexican cartel, takes an interest in her, Luisa is presented with an opportunity she can't afford to pass up. She'll become Salvador's wife and exchange her freedom and body for a life of riches – riches she can bestow upon her deserving parents. But Luisa quickly finds out that even the finest wines and jewels can't undo the ugliness in her marriage, nor the never-ending violence that threatens her every move.
Soon, Luisa is looking for an escape, a way out of the carefully controlled life she's leading. She finally gets her wish in the worst way possible.
As it is, being the wife of Salvador makes her an ideal target for rival cartels and there's one particular man who needs Luisa as part of his cartel's expansion. One particular man whose quest for power has destroyed lives, slit throats and gotten him out of an American prison. One particular man who will stop at nothing until he gets what he wants.
That man is Javier Bernal. And he wants Luisa. He wants to take her, keep her, ruin her.
Unless she ruins him first.
Genre
Contemporary
Review
Dear Javier,
You know I had nothing against you and I'm so looking forward to your HEA. I'm sorry that you didn't get the girl in the end of The Artist Trilogy. I thought you did really good with Luisa, though. She is the queen you had been looking for, the one who is willing to roll in the filth with you, so to speak.
"Life is a game and we're all just trading cards. We play the right hand to get ahead."
My problem with Dirty Angel is not about the characterization. Is mainly due to my disappointment with the pacing and the plot of the story. I prefer the plot to be action-packed, fast moving and preferably a lot of bullets, things blowing up and people dying. I mean apart from the torture scene that seems to be the reenactment straight out of something Hannibal Lecter will perform (cue vomiting and fainting), there isn't much going on.
Javier, I must say you spent too much time sitting in your safe house and thinking of ways to distance yourself from the lure of Luisa. I was hoping you would go out and do more badass stuff and getting your hands dirty. I like the ending of Dirty Angel where the story picks up, you finally move your ass and did something, which is totally heroic and badass. You gave me a scare though, thank God your hair is not mess up.
I'm sure this is not the last I've seen of you. Remember to shoot more people the next time, yeah.
Rating 3/5