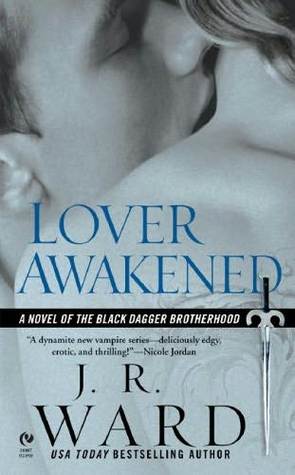 Lover Awakened by J. R. Ward
Excerpt
In the shadows of the night in Caldwell, New York, there's a deadly war raging between vampires and their slayers. And there exists a secret band of brothers like no other - six vampire warriors, defenders of their race. Of these, Zsadist is the most terrifying member of the Black Dagger Brotherhood.
A former blood slave, the vampire Zsadist still bears the scars from a past filled with suffering and humiliation. Renowned for his unquenchable fury and sinister deeds, he is a savage feared by humans and vampires alike. Anger is his only companion, and terror is his only passion—until he rescues a beautiful aristocrat from the evil Lessening Society.
Bella is instantly entranced by the seething power Zsadist possesses. But even as their desire for one another begins to overtake them both, Zsadist's thirst for vengeance against Bella's tormentors drives him to the brink of madness. Now, Bella must help her lover overcome the wounds of his tortured past, and find a future with her…
Genre
Urban Fantasy
Review
Finally! I read Zsadist and found out what all the fussed was about him. Ladies were going gaga over this scarred hero. It really did live up to my expectation and more. The best part was to witness how he manage to turn his life around from this ruined man full of hatred into a man capable of loving himself and providing love.
Zsadist was kidnapped before his transition to be a blood/sex slave. He had given up hope of getting his freedom until one day, his twin brother, Phury came to save him from the mistress.
Bella made her appearance in previous book and I'm already getting all excited to see how she manage to break through Zsadist's invisible fort. The man was totally unapproachable and scare the shit out of everyone around him. She is consider the vampire aristocrat and highly respected. Warning spoiler from Book 2. She was kidnapped by the lesser in Book 2, and now Zsadist is adamant to search for her.
Zsadist is the perfect representation of a damaged and scarred hero. He was disfigured and mentally unstable at times. He had been self-destructive ever since he left his slave life behind. We can see that he truly cares for Bella and wanted to give the best for her, but he will never deemed himself worthy of receiving her love.
Zsadist is a very hard man to love and I admire Bella for being such a strong heroine who make her stand. I've never been so glad to see a hero who manage to turn his life around to make himself worthy in her eyes. Aww... who will not fall for him especially the scene with him in the library making his confession.
"I was dead until you found me, though I breathed. I was sightless, though I could see. And then you came... and I was awakened."
I'm surprised to find out that Phury was also interested in Bella and Zsadist believe his brother is the better man for her by miles. But Bella only had eyes for Zsadist and relentless in her pursue of letting him know her heart desire. Phury was amazing throughout the book and I felt sorry for him because I want Bella for Zsadist.
The love between the twin brother was awesome. They love each other so much and willing to sacrifice for each other. The climax is another shocker that had me gasping. Holy shit! I just love all these surprises that brought on by J. R. Ward.
I always have similar problems with all the subplot in the series. They were distracting especially when it didn't concern about the characters I love. This time we are getting a lot of John Matthew's and honestly I'm not interested. I even skimmed those of Mr X and Mr O. Sorry.
By the way, Butch is getting way too vain for my liking. I would have prefer his rumple version. Feel like giving him a punch just to mess up his face a little.
Rating 5/5