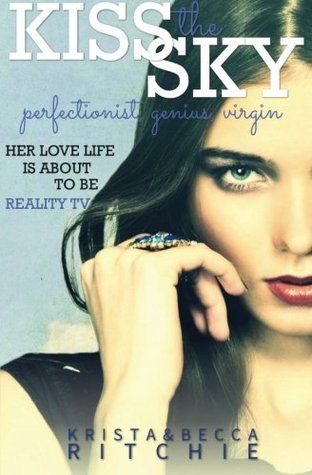 Kiss the Sky by Krista Ritchie
Excerpt
Virgin. Sex addict. Daredevil. Alcoholic. Smartass … Jackass. Her five friends are about to be filmed. Reality TV, be prepared.
Rose Calloway thought she had everything under control. At twenty-three, she's a Princeton graduate, an Academic Bowl champion, a fashion designer and the daughter of a Fortune 500 mogul. But with a sex addict as a sister and roommate, nothing comes easy.
After accepting help from a producer, Rose agrees to have her life filmed for a reality television show. The Hollywood exec is her last chance to revive her struggling fashion line, and boundaries begin to blur as she's forced to make nice with a man who always has his way.
Twenty-four-year-old Connor Cobalt is a guy who bulldozes weak men. He's confident, smart-as-hell and lives with his equally ambitious girlfriend, Rose Calloway. Connor has to find a way to protect Rose without ruining the show. Or else the producer will get what Connor has always wanted—Rose's virginity.
This New Adult Romance can be described as Friends meets The Real World. Expect fist fights, drugs, sex of varying degrees, crude humor and competitive alpha males. Definitely for mature readers audiences only.
Genre
Contemporary
Review
I love love love this book and I'm 100% sure I'm totally biased. I have been wanting to read Kiss the Sky since Connor 1st appearance in Book 1 Addicted to You when he was Lily's tutor. There is just something about his personality that was totally drew me in. He is self-assured, cocky, confident, smart and ambitious. I'm confident that he is still going to be my favorite character after I finish this entire Addicted series and its spin off.
6 people + 6 months + 3 cameramen + 1 reality show = infinite drama.
Hilarious drama overloaded. For the first time, I actually love this NA drama. In order to build back their company and Lily's reputation, Rose make a deal with the production company to film a reality show of the 6 of them living under one roof. Of course, you know who those 6 crazy young people are. No?? Go read Addicted to You now!!
We have Lily & Lo, the neurotic couple, Rose & Connor, the sensible one and Daisy & Ryke the impulsive loose canon. Even without external interference from the douchebag producer, Scott, they can came up with whole load of infinite drama.
Finally we manage to get into the head of Connor Cobalt. Even after knowing him for 3 long books, he still caught me by surprised with some of the new revelation. I thought he was totally smitten with Rose since he was so damn persistent despite cruel treatment from the ice queen herself. Well, apparently Mr. Cobalt don't believe in love.
"Love is an irrational feeling. It makes smart people do stupid things."
Rose and Connor romance had been develop since Book 1, as the couple who are constantly at odds with each other. At the beginning of Kiss the Sky, they are already together for a year and yet Rose is still maintain her virgin status. Woah! I wonder what will it takes for her to let Connor to devirginized her.
"Why am I with you? You're so conceited arrogant - "
"Narcissistic, attractive, lovable, brilliant."
"That wasn't an invitation for you to compliment yourself."
Connor believes what they have is mutual attraction and admiration. I believe he is in total denial considering he was awake almost 24/7 to juggle between Wharton, Cobalt Inc and the reality show just to be with her. Anyway, I'm loving their creative banter that doesn't involve curse words. Okay, sometimes they do make me feel stupid when they start quoting Edgar Allen Poe and talking in French. But it was so damn sexy.
"Vous aimez quand j'ai le control."
In fact after reading the long awaiting sex scene, I felt that they are the sexiest couple.
There was a lot of things going on at the same time. Lily and Lo was crazy as usual. From Connor's POV, I felt their geekiness even more. What the hell is Wampa? Meanwhile, their parents want them to get married soon to shut the media up!
Then we have Daisy and Ryke blossoming relationship. Ryke is still pretty much the foul mouth protective big bro with all brawn. Daisy the impulsive teenage was still one year shy of 18. These two being together later is gonna be explosive.
This is by far my favorite NA series, which is totally addictive with rich characters with different personality and interesting drama (not frustrating, mind you). There are love, friendship, family relationship that was being explore. Highly recommended!
"Kiss the sky with me and don't ever come down."
Rating 5/5