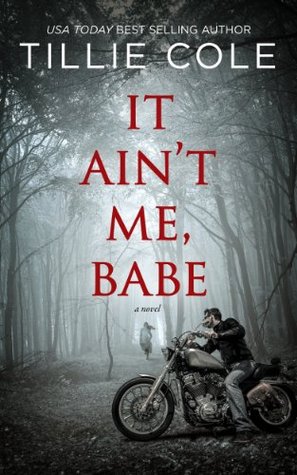 It Ain't Me, Babe by Tillie Cole
Excerpt
Sinning never felt so good…
A fortuitous encounter.
A meeting that should never have happened.
Many years ago, two children from completely different worlds forged a connection, a fateful connection, an unbreakable bond that would change their lives forever…
Salome knows only one way to live—under Prophet David's rule. In the commune she calls home, Salome knows nothing of life beyond her strict faith, nor of life beyond the Fence—the fence that cages her, keeps her trapped in an endless cycle of misery. A life she believes she is destined to always lead, until a horrific event sets her free.
Fleeing the absolute safety of all she has ever known, Salome is thrust into the world outside, a frightening world full of uncertainty and sin; into the protective arms of a person she believed she would never see again.
River 'Styx' Nash knows one thing for certain in life—he was born and bred to wear a cut. Raised in a turbulent world of sex, Harleys, and drugs, Styx, unexpectedly has the heavy burden of the Hades Hangmen gavel thrust upon him, and all at the ripe old age of twenty-six—much to his rivals' delight.
Haunted by a crushing speech impediment, Styx quickly learns to deal with his haters. Powerful fists, an iron jaw and the skillful use of his treasured German blade has earned him a fearsome reputation as a man not to be messed with in the shadowy world of outlaw MC's. A reputation that successfully keeps most people far, far away.
Styx has one rule in life—never let anyone get too close. It's a plan that he has stuck to for years, that is, until a young woman is found injured on his lot… a woman who looks uncannily familiar, a woman who clearly does not belong in his world, yet a woman he feels reluctant to let go…
Genre
Contemporary
Review
This one is definitely not a heart warming read that make your heart flutter. Don't expect flower or roses or some other similar shit. This one was a gritty, angsty, raw, violent and intense read that make my heart pounding madly and did a whole load of cursing.
Mae aka Salome was a sex slave imprisoned in a religious cult since she was a child. She grown up being sexually abused and fearing the life outside of the commune, until one day something happened and triggered her to make a life changing decision. She decided to flee.
Styx aka River was the Hades Hangmen MC's President and was known as the infamous Hangmen Mute because he never speaks except to his VP, Ky. Styx had a stutter that make him unable to speak in front of others, but only to his closest confident.
Mae and Styx met once fifteen years ago, across the commune fence and formed an unbreakable bond and connection. Years later, they met again under a different circumstances. Mae was injured and frighten of her life out of commune and Styx can't believe he found his wolf eyes girl again.
"Well, I hope that I don't fall in love with you,
'cause falling in love just makes me blue."
Due to his responsibility as the club President and the danger they were in, Styx decided to put Mae under one of his men care, Rider. At this time, Styx was with his usual club girl, Lois. I don't understand why did some people said Styx cheated, which in fact he was not with Mae at this point. So according to my evaluation, there is no cheating. You don't even get the details of the sex, so don't worry about it.
"You have light within you, Styx, and I feel it shining through like the rays of the midday sun. It is beautiful."
For the first time, Mae was experiencing freedom and life. She realized that people outside are not the devil as she perceived them to be and the true evil are the elders in the cult. While, Styx was avoiding her, she strike up a close friendship with Rider, the man who was assigned to take care of her. But she never once stop missing Styx and his kindness towards her.
"You say it aint youwho is good and who will keep me safe, but you already have."
The possibility of a love triangle make me damn uncomfortable. I'm the kind of reader who hates reading that stuff. There were some angst going on and what make it bearable for me is that Mae was very decisive on who she love from the very beginning. In her heart, there is only Styx, the boy she met all those years ago. Styx was being aggressive when he knew of Rider's intention but I like the fact that he fight for what belongs to him. He is the gang President after all and violence in inevitable. Nonetheless, I was hoping Mae handled the situation much better if she was not so naive about human nature.
I'm not enjoying the hint of love triangle here. Urg! But after I finish the book, I came to understand we need those unpleasant stuff to happen to make the climax work and make me felt so emotionally invested, to make me turn page after page anxiously.
Considering there were so much fornication going on in the club, I was surprised by the lack of sex scene between Styx and Mae. There were some intense sex, but there isn't a really long drawn one that make my toe curl. Anyway, there were so much shit going on that it don't bother me that much.
There were some pretty nasty violence and the climax took place when Mae was hunted down by the elders. Will Styx be able to save his old lady? We also have some big revelation and surprises along the way. I really hope that asshole die.
This is a standalone with a HEA, but the epilogue hinted at something more at work next. Seriously, Flame, the psychopathic one need his own book, but I was hoping it won't be another chick from the religious cult. Anyway, we will see how it goes.
Rating 5/5