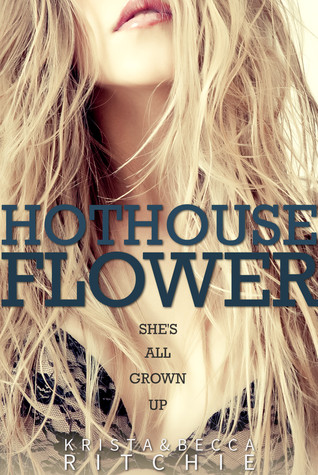 Hothouse Flower by Krista Ritchie
Excerpt
Ryke Meadows, meet Daisy Calloway ... she's all grown up.
Twenty-five-year-old Ryke Meadows knows he's hard to love. With a billion-dollar inheritance, a track-star resume, and an alpha-male personality—he redefines the term
likable asshole
. But he's not living to make friends. Or enemies. He just wants to free climb three of the toughest mountains in Yosemite without drama or interruption.
And then he receives a distressed call from a girl in Paris—a girl that he has never been allowed to have.
Daisy Calloway is eighteen. Finally. With her newfound independence, she can say goodbye to her overbearing mother and continue her modeling career. Next stop, Paris. Fashion Week begins with a bang, and Daisy uncovers the ugly reality of the industry. She wants to prove to her family that she can live on her own, but when everything spirals out of control, she turns to Ryke to keep her secrets.
As Daisy struggles to make sense of this new world and her freedom, she pushes the limits and fearlessly rides the edge. Ryke knows there's deep hurt beneath every impulsive action. He must keep up with Daisy, and if he lets her go, her favorite motto—"
live as if you'll die today
"—may just come true.
Genre
Contemporary
Review
I'm at lost of words to describe how much I adore this series. It seems like I keep repeating myself. Even though Ryke and Daisy will never be my favorite couple in this series, nonetheless their presence in this series make everything more entertaining. If there isn't Ryke, who else can Connor focus on to receive his condescending remarks.
This one is as lively as the rest of the series with all 3 couples facing infinite drama in their life. This time it surrounds Daisy's PTSD issue. I had no idea she was having such a hard time dealing with all the media pressure until she can't even sleep.
Ryke is Lo's foul-mouth big brother. He can insert fuck in every single sentence he utter. Beneath his crass exterior, he is the protective brother of the bunch that seems like all brawn.
Daisy is the Calloway's youngest sister, a dare devil, a model and her mum's puppet. It seems like everything she do is to please the people around her. She often felt like an outcast due to her young age and suffocating under the immense pressure by her mum.
"Hyperactive, fearless, crazy, and probably the happiest unhappy girl I've ever met."
Ryke and Daisy close friendship developed over the course of three years since Ryke reconcile with Lo in Book 1. Despite their attraction towards each other, they are nothing more beside friends due to their age gap. Now that Daisy is 18, is finally time for Ryke for make his move. I was surprised to find Lo overreacting and totally despise the idea of his brother with Daisy. I knew he always make his opinion of disgust known, but this time he really blew up. Woah!
Can Ryke and Daisy be together despite everything going against them?
"I love you, Dais, because you're the wildest fucking girl with the biggest fucking heart. And without you in my life, I'd be the unhappiest fucking guy."
I've read some reviews and mostly they just focused on Ryke and Daisy's romance that got me worried that I might not be able to see the rest of the couple as much. But I'd just worry over nothing because Connor and Lo were very much Ryke's back up buddy when he went to Paris after receiving Daisy's distress call. Connor is always presence to talk sense into the testosterone fueled brothers. Whenever he gave them his piece of mind, I always vehemently agree.
"If I were you, Ryke, I'd stop letting people see the worst of me, and I'd finally show them the good."

"Man's greatest excuse to delay the inevitable."
"Can you not fucking talk like your auditioning for the role of Confusius?"
And together with the rest of the sisters, they set out for a road trip to California. Seeing Connor and Rose holding their Starbucks at the camping site is a sight to behold. And then there are Lo and Lily, cutest couple as usual.
"Your fucking Band-Aid isn't going to save me."
"Wolverine is printed on the front. He can save anyone."
It just crossed my mind that all three couples have very different kind of sex life. Lo and Lily - tried to not have sex so often. Poor thing. Connor and Rose - affinity towards light BDSM. Ryke and Daisy - affinity towards sex in public!
There are some predictable moment.
And then some unpredictable moment.
Now that I have read all 3 couples full length book, I can confidently said that Connor and Rose are definitely my favorite! I felt that I know each of them so intimately that whatever quote posted up, I can pin point who said that. I think this is one of the series that I will gladly reread everything single book without wanting to skip any scene at all. I can't wait for all the subsequent books to be out.
Rating 4/5