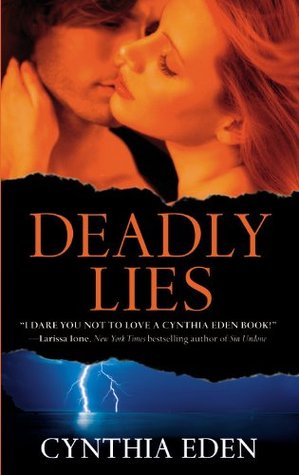 Deadly Lies by Cynthia Eden
Excerpt
She wants to hide the past
FBI Special Agent Samantha Kennedy is haunted by memories of the serial killer who abducted her. To keep the darkness at bay, she pretends to be a different, more confident woman.
This
Samantha doesn't fear every unknown face. So she throws caution to the wind and shares a night of unbridled passion with a handsome stranger.
He needs to uncover the truth
One night isn't enough for successful entrepreneur Max Ridgeway. He wants more of the sexy, smart, mysterious woman who slipped away before dawn. When they meet again, their attraction is undeniable-until his stepbrother goes missing, and Max realizes that Samantha isn't who she seems. But they must trust each other to trap a ring of bloodthirsty kidnappers before the nightmares that terrorize Sam become irrevocably real.
As a merciless criminal spins a web of . . . DEADLY LIES
Genre
Suspense
Review
Reading this gave me a sense of deja vu because we had some recurring cast from Book 1 Deadly Fear, which I totally forgotten that I had read before. This can definitely worked as a standalone, however, Luke and Monica from Book 1 did took up some page time, so you might not appreciate it as much.
There was a serial kidnapping case that the SSD was handling. Two victims came back after ransom was paid, but those families that refuses to cooperate, their sons were killed gruesomely. The kidnapper cum killer was truly sadistic that might make you squirm. Things were quite dark and gruesome.
Samantha Kennedy of SSD was one of the victim in Book 1 and she still recovering from her PTSD. She was trying hard to prove to her teammates that she was fit for work. She met Max Ridgeway and had a one night stand with him, and during their subsequent encounter, she found out that Max's brother, Quinlan was being kidnapped.
By hiding her identity, she tried to get herself into Max's family and obtained information on the kidnapping for her boss. She was ordered to stick with Max. When her true identity was reveal, Max didn't actually flipped out, but he was having problem trusting her. Did Samantha want to catch the killer at the cost of his brother's life?
Max had his own dark past that he tried to hide away. He promised his mother that he will take care of Quinlan and he will do anything to save his brother. Finding out Samantha turned out to be a cop might threw him off guard, but he still believe they had a chance to be together despite the awful circumstances that they were facing.
Told in a multiple POV, I felt that the story did not have enough focus on developing Sam and Max's relationship. Everything was happening so fast and there was so much pressure in regards to the case that they didn't have much romance beside some really hot sex. The sex scenes were very well written that manage to convince me they did have a solid connection. I like the fact that Sam's always put Max's interest as the priority in her decision making and she was being honest with him therefore they didn't have any misunderstanding.
"They'd started fast, started red-hot, and gone barreling through the darkness. More darkness might come - that was just part of life - but they'd be together."
I found this to be a totally great suspense story with a serial killer plot line. I kept trying to guess who was the killer and mind you I was threw over the loop whenever there was a new player reveal. This was one of those rare occasion where I care more about the case than the couple. I did care about Sam and Max, but the suspense was really awesome!
Rating 4.5/5